Past CNS Talks
| 5:00 PM |
School of Art, Architecture, and Design, IUB

Phillip Beesley: Digital Arts
Phillip Beesley
Abstract: Philip Beesley's (FRAIC OAA RCA, visual artist, architect) research focuses on next-generation architecture that asks fundamental questions: can architecture feel, and care? Can new digital fabrication, artificial intelligence, and synthetic biology combine in architecture that comes close to life itself? Beesley's practice includes multiple crafts of architecture, sculpture, industrial design, instrument making, and mechatronics. He often collaborates with artists, including couture designer Iris van Herpen and futurist Rachel Armstrong. He is a Professor at the University of Waterloo and European Graduate School, and serves as the Director for the 40-partner Living Architecture Systems Group and Riverside Architectural Press. He has authored and edited sixteen books and proceedings, and has appeared on the cover of Artificial Life (MIT), LEONARDO and AD journals. Features include Vogue, WIRED, and a series of TED talks. His work has received multiple distinctions, and was selected to represent Canada at the 2010 Venice Biennale for Architecture.

Bio: Philip Beesley, MRAIC OAA RCA, is a practicing visual artist, architect, and Professor in Architecture at the University of Waterloo and Professor of Digital Design and Architecture & Urbanism at the European Graduate School.

He serves as the Director for the Living Architecture Systems Group, and as Director for Riverside Architectural Press. His Toronto-based practice Philip Beesley Architect Inc. operates in partnership with the Europe-based practice Pucher Seifert and the Waterloo-based Adaptive Systems Group, and in numerous other collaborations. The studio's methods incorporate industrial design, digital prototyping, and mechatronics engineering. Beesley frequently collaborates with artists, scientists and engineers. Recent projects include a series of hybrid fabrics developed with Atelier Iris van Herpen, curiosity-based machine learning environments developed with Rob Gorbet and Dana Kulic of the Adaptive Systems Group, and synthetic metabolisms developed with Rachel Armstrong of the University of Newcastle. His most recent collaboration with Iris Van Herpen has translated a shared sensibility for subtle materials, electricity, and chemistry into a collection of highly complex and diverse textile and haute couture collections.

His research focuses on responsive and distributed architectural environments and interactive systems, flexible lightweight structures integrating kinetic functions, microprocessing, sensor and actuator systems, with particular focus on digital fabrication methods and sheet-material derivations. Beesley has authored and edited sixteen books and proceedings, and has appeared on the cover of Artificial Life (MIT), LEONARDO and AD journals. Features include national CBC news, Vogue, WIRED, and a series of TED talks. His work was selected to represent Canada at the 2010 Venice Biennale for Architecture, and has received distinctions including the Prix de Rome, VIDA 11.0, FEIDAD, Azure AZ, and Architizer A+.
| 4:00 PM |
Social Science Research Commons (Woodburn Hall 200
Open Science Forum
Angela Zoss
Abstract: Despite a lack of widespread training and complaints of "hairball" layouts, network visualizations enjoy growing popularity both inside and outside academic circles. As yet, no systematic study has been done to gather baseline literacy values for network visualizations across diverse populations and diverse visualization comprehension tasks. In this Open Science Forum, I will describe my efforts to study and describe network visualization literacy, and I will invite the audience to participate in the research and contribute to our growing body of knowledge about these visualizations.

| 1:30 PM |
102 Lindley Hall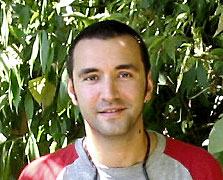 Analyzing the Language of Food on Social Media
Stephen Kobourov
Abstract: In this lecture we investigate the predictive power behind the language of food on social media from a collected corpus of over three million food-related posts from Twitter. Using this, we will demonstrate that many latent population characteristics can be directly predicted from this data: overweight rate, diabetes rate, and political leaning. We analyze which textual features have most predictive power for these datasets, providing insight into the connections between the language of food, geographic locale, and community characteristics. Lastly, we describe and demonstrate an online system for real-time query and visualization of the dataset. Visualization tools, such as geo-referenced heatmaps, semantics-preserving wordclouds, and temporal histograms allow us to discover more complex, global patterns mirrored in the language of food.

For more information visit the Data Science Invited Talk Series.

Bio: Stephen Kobourov is a Professor of Computer Science at the University of Arizona. He completed BS degrees in Mathematics and Computer Science at Dartmouth College in 1995, and a PhD in Computer Science at Johns Hopkins University in 2000. He has worked as a Research Scientist at AT&T Research Labs, and is a Humboldt Fellow at the University of Tübingen in Germany as well as a Distinguished Fulbright Chair at Charles University in Prague.

Open Science Forum: Jetstream & Open XD Metrics on Demand Value Analytics
IUB Faculty
CNS, SOIC, IU
Abstract:
http://iuni.iu.edu/news/event/13
Jetstream, funded by NSF and led by the Indiana University Pervasive Technology Institute (PTI), adds cloud-based computation to the national cyberinfrastructure (https://jetstream-cloud.org). IUNI collaborated with the Cyberinfrastructure for Network Science Center to deploy the Network Workbench tool on Jetstream for use by IVMOOC students (http://ivmooc.cns.iu.edu).
The "Open XD Metrics on Demand Value Analytics" NSF project, directed by Matthew Link (UITS), aims to measure and visualize the impact of campus-financed cyberinfrastructure (CI) on progress in science. Resulting visual analytics modules will be added to the existing CI metrics tool eXtreme Data Metrics on Demand (XDMoD) to present a view of financial, collaboration, and publication data, showing "return-on-investment" metrics in relation to CI usage.

Web Visualization Framework Demo to AVL
Adam Simpson, Gagandeep Singh, and Katy Börner
CNS, SOIC, IU
Abstract: The web visualization framework developed by the Cyberinfrastructure of Network Science (CNS) Center is a collection of several existing web libraries that have been placed into a scaffold, allowing each of these libraries to work in conjunction to create a configurable plugin-based visualization service. It was made primarily for D3.js visualizations, but can be used to create non-D3.js visualizations with minimal modification. The framework eliminates repeated labor to a great extent for visualization projects at CNS, while also providing the possibility to create an open-source community where CNS and the community can mutually benefit each other. Join us for an overview of the inner workings of the CNS Web Visualization Framework and getting started with a quick boilerplate example.

Bio:
Adam Simpson: TBD

Gagandeep Singh is a Masters student in Computer Science at Indiana University. As a Graduate Assistant with the Advanced Visualization Lab , he works on understanding the usability of web based Virtual Reality technologies as they exist today.

Katy Börner is the Victor H. Yngve Professor of Information Science in the Department of Information and Library Science, School of Informatics and Computing, Adjunct Professor at the Department of Statistics in the College of Arts and Sciences, Core Faculty of Cognitive Science, Research Affiliate of the Center for Complex Networks and Systems Research and Biocomplexity Institute, Member of the Advanced Visualization Laboratory, Leader of the Information Visualization Lab, and Founding Director of the Cyberinfrastructure for Network Science Center at Indiana University in Bloomington, IN and Visiting Professor at the Royal Netherlands Academy of Arts and Sciences (KNAW) in The Netherlands. She is a curator of the international Places & Spaces: Mapping Science exhibit. She became an American Association for the Advancement of Science (AAAS) Fellow in 2012.
| 12:00 PM |
Lindley Hall 101

Data Science Faculty Meeting
Katy Börner, Michael Ginda, Naren Suri
CNS, SOIC, IU
Abstract: Katy Börner, Michael Ginda, and Naren Suri present Learning Analytics on Data Science students. The Data Science program has been working with Katy Börner and her team regarding the demographics of the students, as well as their enrollment trends.


Open Science Forum: Web of Science Data Forum
IUB Faculty
CNS, SOIC, IU
Abstract:
http://iuni.iu.edu/news/event/14
The IUNI Science of Science Hub acquired the complete set of Thomson Reuters' Web of Science XML raw data (Web of Knowledge version 5). This data can be used by any employee of Indiana University for academic research and without any sharing of data.
Learn more about this resource and find potential collaborators in work that uses this resource. More details are available on the IUNI site.

Sentient Architecture: Visualizing Signal Flow in Intelligent Systems
Andreas Bueckle and Dr. Katy Börner
CNS, SOIC, IU
Abstract:
As the built environment becomes increasingly more complex and integrated with new technologies—including the emerging Internet of Things (IoT)—there is an urgent need to understand how embedded technologies affect the experience of individuals that inhabit these spaces and how these technologies can be most appropriately used to improve occupant experience, comfort, and well-being. In addition, the IoT provides an opportunity as well as a challenge when it comes to helping users understand how these intelligent systems gather and process information such as sensor data and internal feedback loops.
By visualizing data streams from living architecture projects, we aim to help system architects, designers, and general audiences understand the inner workings of tightly coupled sensor-actuator systems that interlink machine and human intelligence. Our project aims to empower many to master basic concepts related to the operation and design of complex dynamical systems and the IoT. Specifically, we use architectural blueprints of living architecture installations together with real-time data streams to generate augmented reality visualizations of the operation of living architecture installations to improve data visualization literacy in the visitors of those sentient architectures.
Bio:
Andreas Bueckle is a PhD student in Information Science at Indiana University as well as a videographer and photographer. His academic interests revolve around information visualization, more specifically interactive and augmented reality visualizations. As a professional videographer and photographer, he has worked on video and photo projects on four continents, with a focus on documentary as well as nature, especially social issues and nature photography. Check out work samples at http://andreas-bueckle.com.
Katy Börner is the Victor H. Yngve Distinguished Professor at the School of Informatics and Computing and Adjunct Professor at the Department of Statistics in the College of Arts and Sciences at Indiana University where she directs the Cyberinfrastructure for Network Science Center. Her research focuses on the development of data analysis, modeling, and visualization techniques for improved information access, understanding, and management.
This talk is an IIS Seminar.
| 2:00 PM |
Wells Library LI030

Technology: The Changing Landscape of Fashion
Tanya James, Fashion Technologist
Abstract: Tanya James began her career in the fashion industry working as a dress Buyer for Van Buren Neiman, one of New York's leading resident buying offices. Eventually Ms. James became a contributing Fashion Editor for Women World Magazine. Ms. James enjoyed working with top fashion houses, photographers and models; and produced trend setting fashion news layouts. Although Ms. James enjoyed all of her positions in the fashion industry, she discovered she had a deeper passion that would saving lives. During her research process Ms. James visualized integrating fashion with technology. The wearer of this type of fashion/tech apparel would help the caregiver locate the person immediately if they wonder away. Ms. James hold an BBA, MBA in Media Arts and Information Systems Management/Ecommerce.

Ms. James will speak about the technological changing landscape in the fashion business, the future job opportunities and the new manufacturing processes. The fashion industry is predicted to change more in the next ten years as it has over the last 100. Consolidation, computerization and globalization are the major disruptions of today, and will continue to be as they morph and change. Innovative fashion designers and new technologies are at the forefront of these disruptions. The distinctions between Brands, Retailers and Manufacturering that defined fashion for the last several decades are now being tested by a multitude of factors, including a difficult economic context and changing consumer desires. Emerging hybrid models are changing the landscape of the Fashion's business and helping companies thrive in a world of growing complexity. Lastly a, Social and economic changes have transformed the way fashion is designed, developed, produced and consumed.

Bio: Tanya James, BBA, MBA began her career in the Fashion Industry working as a dress Buyer for Van Buren Neiman one of New York's leading resident buying offices. Although she loved her position, greater opportunity came along. The President of a 52 Store Specialty Chain wanted her services for his organization. Tanya moved into a more exciting area of the Retail Industry where she learned much more about the business of Fashion. Eventually, Tanya became a Fashion Editor. As a contributing Fashion Editor for Women World Magazine Tanya enjoyed working with top Fashion houses, Photographers and Models producing trend setting Fashion News layouts a position that required extensive world travel. After many wonderful experiences working in fashion she discovered a love for technology. As an innovative thinker Tanya began her first business brainchild the home shopping network called Image Makers. The business concept behind Image Makers allowed women the opportunity to purchase designer fashions over cable television. Her next innovation was Image-Makers of Hollywood, the business that permitted her the ability to combine her retail and styling talents at the same time. Tanya began to wardrobe a host of celebrities as well as to style for Photo sessions, Videos, TV ,Films and live fashion show productions. Realizing she had something special for the Visual Arts. Tanya decided to go back to school and learn as much as she could about the Film and Television production business. After graduating from the Center for Media Arts and taking New Media Business and Multimedia Presentation Design classes at NYU Tanya began to producing a variety of Television programs. During that process Tanya also attended graduate school studying Media arts and information Systems management/Ecommerce achieving her MBA in 2012.

This talk is sponsored by the Department of Information & Library Science.