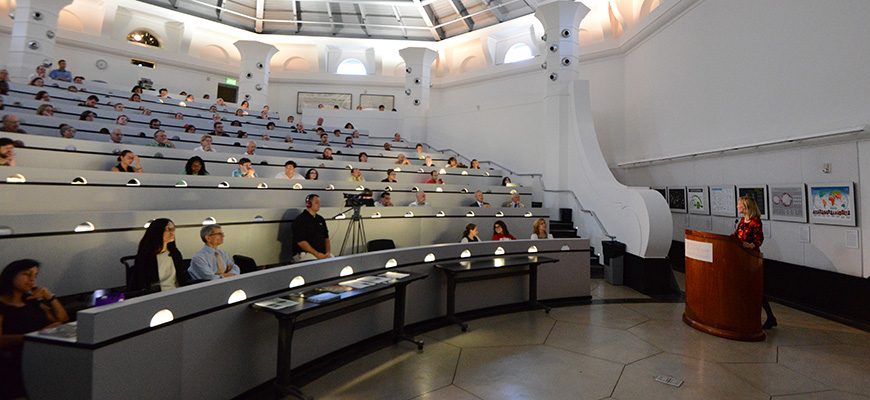 The Places & Spaces exhibit aims to demonstrate the power of maps to navigate and make sense of physical places and abstract topic spaces. Scientists will be stimulated, students and teachers encouraged, and the general public fascinated by this multi-layered, accessible approach to the worlds of modern scientific thought.

The exhibit debuted in 2005 with the goal of creating 10 iterations of 10 maps each, totaling 100 maps by 2014, in an effort to showcase the most fascinating examples of data visualization from around the globe. The 100-map goal was realized in September 2014 when the 10th iteration debuted at the Unviersity of Miami, marking the first time all 100 maps were displayed together.

The maps that make up the exhibit have been chosen by a team of international reviewers and exhibit advisors. Of the dozens of maps submitted each year, only the top-10 are chosen. After being prepared for printing, the finished maps are included in an exhibition for public display at libraries, science museums, and national science academies around the globe.

Over the years, Places & Spaces has appeared at some of the world's most renowned institutes of knowledge and learning, like the National Academy of Sciences, Stanford University, the Chinese Academy of Sciences, University College Dublin, and many more. See a complete list of venues with photos here.

In addition to printed maps, the exhibit also takes the form of large format digital displays and bonus elements like Ingo Günther's WorldProcessor globes.

Below are some examples of the finest science maps in the exhibit. Click the images to see the zoomable maps and read more about them at scimaps.org.