|

CNS News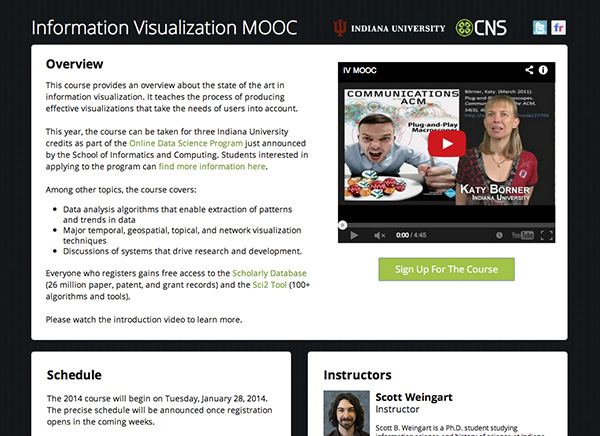 Click here to register for the course »

Are you interested in running temporal, geospatial, topical, or network analyses and visualizations? Do you want to learn how to harness the power of big data? You'll get all this and more with the Information Visualization Massively Open Online Course (IVMOOC), offered by the Cyberinfrastructure for Network Science (CNS) Center at the School of Informatics and Computing, Indiana University.

In its second year, the IVMOOC will run from January 28 to April 14, 2014. The course provides an overview about the state of the art in information visualization, and teaches the process of producing effective visualizations that take the needs of users into account. The target audience is graduate students able to work three to six hours per week. Students will learn basic concepts, practical skills, and team project development. Everybody who registers gains instant free access to the Scholarly Database (26 million paper, patent and grant records) and the Sci2 Tool (180+ algorithms and tools).

Information visualization continues to broaden its reach from computer science and human-computer interaction into fields like drug discovery, financial analysis and scientific research. The IVMOOC is one of the first MOOCs offered by IU and the first to offer an opportunity for students to work in teams with actual clients, like researchers interested in understanding data patterns and trends, government agencies developing visual interfaces for data holdings, industry representatives looking to maximize return on investment, medical doctors seeking cures, and not-for-profit organizations hoping to communicate impacts and achievements.

Since the launch of the first IVMOOC, Katy Börner and David E. Polley have written a companion textbook, Visual Insights: A Practical Guide to Making Sense of Data, that offers a gentle introduction to the design of insightful visualizations. It seamlessly blends theory and practice, giving readers both the theoretical foundation and the practical skills necessary to render data into insights. The book is recommended reading for IVMOOC 2014. The book can be purchased from Amazon, Barnes & Noble, or MIT Press.

This year, the course can be taken for three Indiana University credits as part of the Online Data Science Program just announced by the School of Informatics and Computing. Students interested in applying to the program can find more information here. Students who participated in the IVMOOC last year may take the course again for credit in the Online Data Science Program.

Those who finish the course with high marks, regardless of whether they are participating in Indiana University's online program, will receive a Mozilla Open Badge to mark their accomplishment.

This year's course will include several new lectures dedicated to digital humanities and statistics, for those interested in exploring their data further.