|

CNS News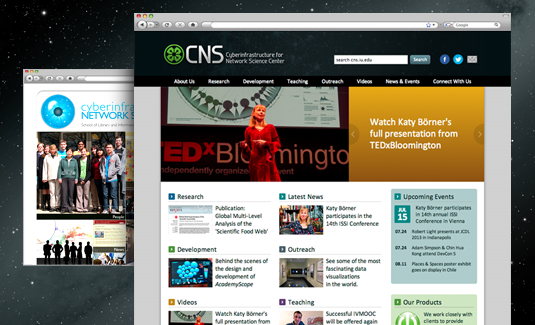 We've spent the last few months completely transforming our website, and now we're proud to make it available to the public. In addition to updating the look and feel of the site, we've reorganized the content to make for a more inviting and intuitive browsing experience.

One of our main goals is to do a better job of informing you and others interested in network science and data visualization about the many exciting research and development projects and events we're involved in. That's why we've added the "latest news" and "upcoming events" feeds on the home page, as well as an events calendar. We've also added a products page which details the many services CNS provides, a videos page where visitors can watch product demonstrations and enjoy a variety of interesting and educational talks, and a detailed listing of all upcoming (and past) Network Science Talks hosted by the Center.

Project leads on the website design were Systems Analyst Chin Hua Kong and Senior Graphic Designer Samuel Mills. Contributing to site map development were Center Director Katy Börner, Center Manager Samantha Hale, Research and Editorial Assistant Ted Polley, and Exhibit Curator/Copy Editor Todd Theriault. Software Developers Adam Simpson and Bhumi Patel contributed to the programming of the site. Database Administrator Robert Light provided database support. Data entry was handled by Sam Mills, Samantha Hale, and Graphic Design Assistant Allie Gullett. Assistant Director of Information Technology for the Department of Information and Library Science, Mike Gallant, assisted CNS with automated service deployment.