|

Kevin Fryling

|

News at Bloomington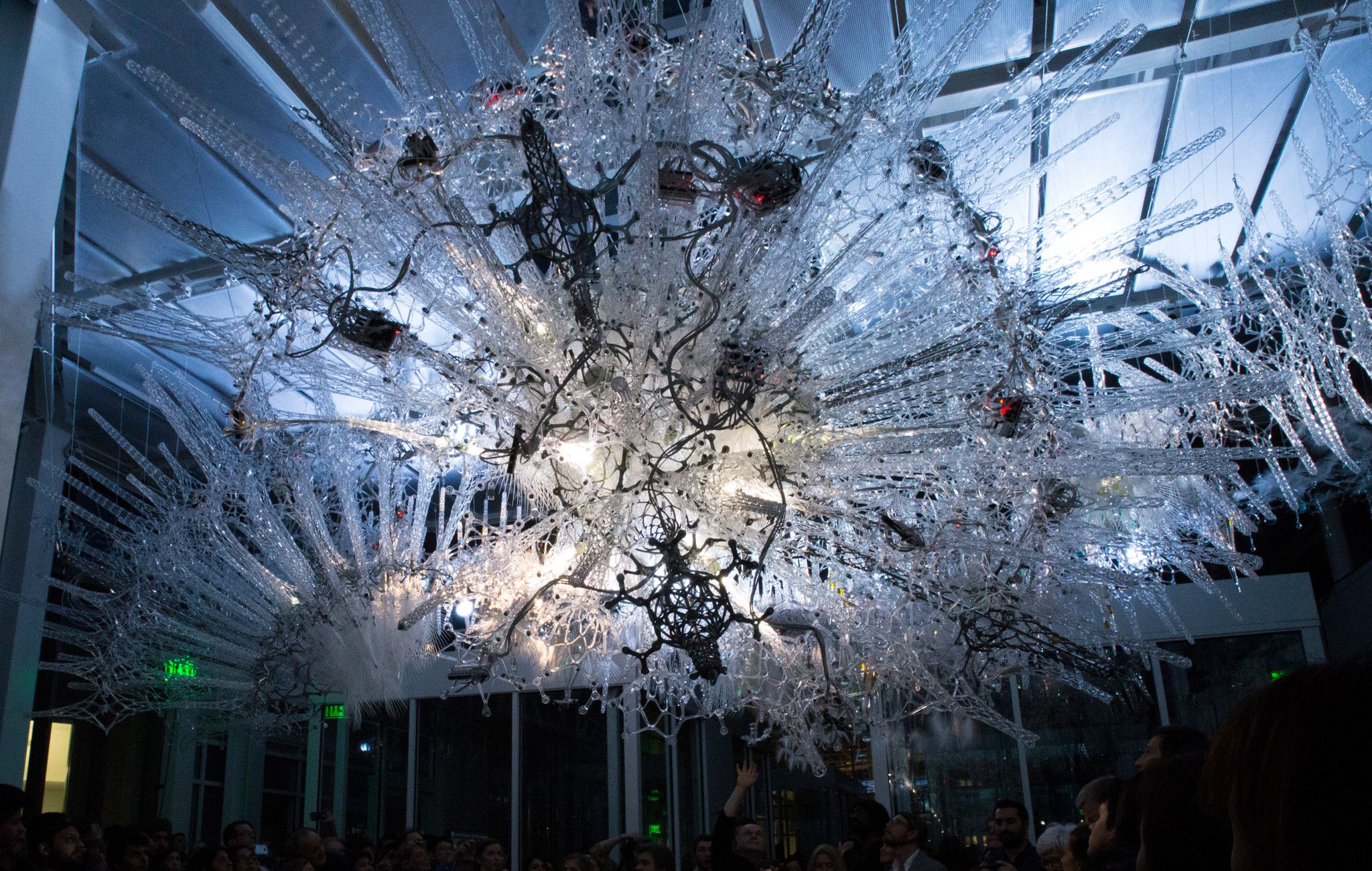 A living, protected space of vales, canopies and membranes composed of hundreds of thousands of microprocessors, prototype cells and gently swaying Mylar fronds.
This is the language used by Canadian artist and architect Philip Beesley to describe the enormous, seemingly living sculpture, "Amatria," recently installed under the sunlit glass atrium on the fourth floor of Luddy Hall, the new home to most of the departments and programs in the IU School of Informatics, Computing and Engineering.
The school officially unveiled the work of "sentient art" before a crowded audience at sunset April 11. The reveal, which featured flashing lights, dramatic music and comments from the artist and school leaders, took place during LuddyFest, a weeklong celebration that culminated in the building's dedication ceremony April 13.
"Just like the Sample Gates are iconic of IU Bloomington, we expect 'Amatria' -- with its unique combination of art, computing, architecture and technology -- to become a symbol of our school and 'renaissance engineering' at IU," said IU Distinguished Professor Katy Börner, who played the key role in bringing Beesley's work to campus after meeting him at a conference in 2015.
It's that vision of engineering -- as a field that blends scientific and technical skill with creative thought and a foundation in the arts and humanities -- that attracted Beesley to IU. An internationally known architect whose work has been featured at the prestigious Venice Biennale, as well as many other sites across the globe, Beesley is renowned for the use of cutting-edge technologies and materials -- sensor arrays, 3-D printed materials and Internet-connected objects -- to create enormous works of art that gently move or react as people pass near or through them.
"When people walk into the environment of this kind of sculpture, some reactions are quite anxious," Beesley said. "But then the work starts to respond back -- with small ripples of vibration and movement or gentle rustling sounds and billowing light -- and those reactions quickly turn into a kind of curious, even wondering, conversation. People are invited to simply explore [the art] and discover their own relationships with it."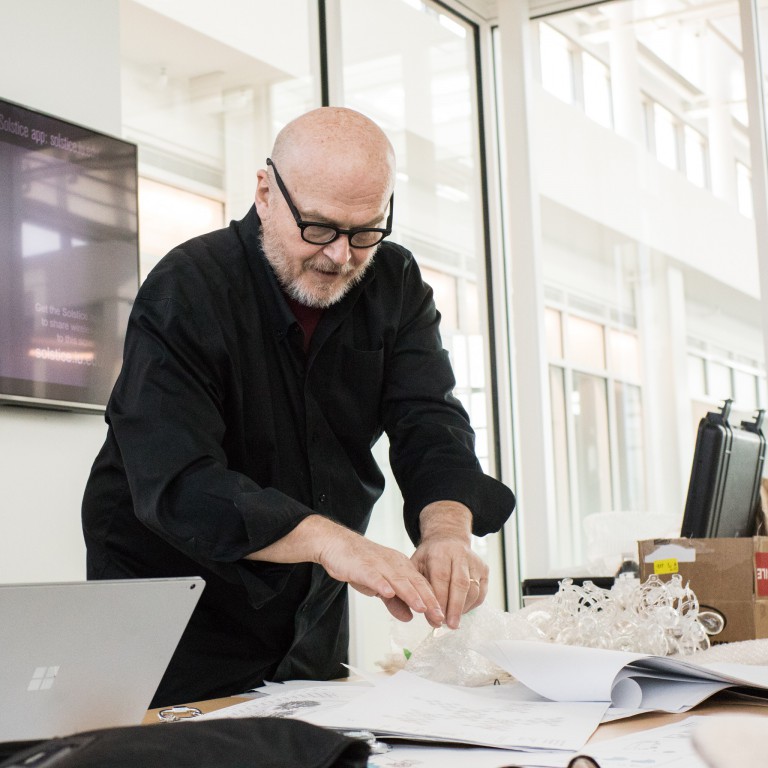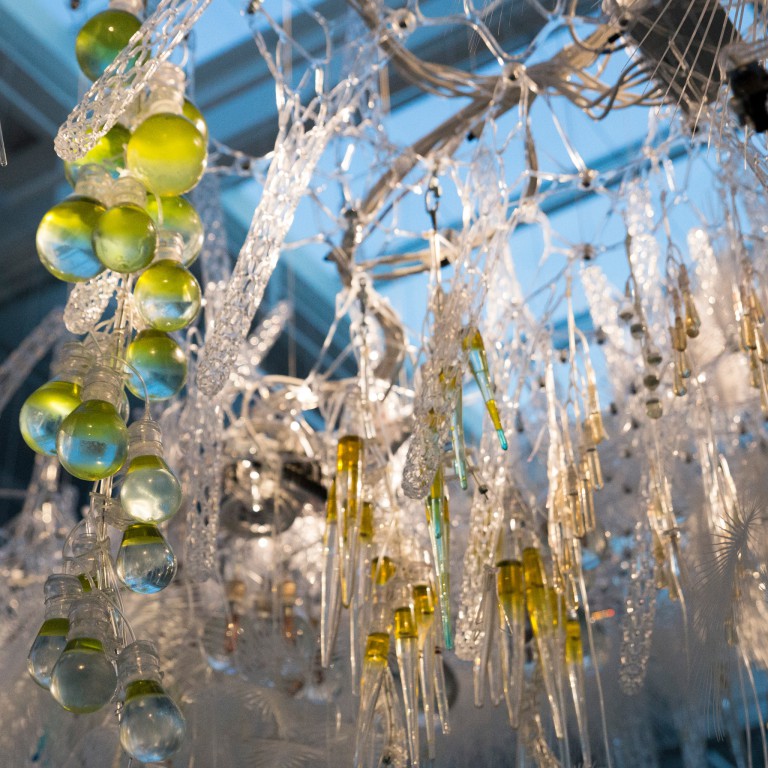 Philip Beesley reviews architectural plans for "Amatria"; a close-up of the artwork's hundreds of thousands of components; unveiling of the artwork at sunset at Luddy Hall; . Photos by Amelia Herrick and Chris Meyer, IU Communications
During the past few years, Beesley has paid several visits to IU Bloomington to participate in behind-the-scenes preparations related to suspending a high-tech work of art composed of hundreds of thousands of custom parts from the glass atrium atop a four-story building. Most recently, he and colleagues from his Toronto-based studio were on-site to oversee the work of IU students and community volunteers, who played a key role in the sculpture's creation and installation. IU students helped assemble the sculpture's many highly intricate physical parts, wire electrical components and code systems that control how the work interacts with its environment.
Among the volunteers was Clara Fridman, a junior in the School of Informatics, Computing and Engineering who participated in several sessions assembling various small pieces of the sculpture. A fan of Beesley's work, she also took the opportunity to hear him and members of his studio speak at several previous visiting lectures at IU.
"I was thrilled to contribute to this amazing piece for our school," she said. "Each small part of 'Amatria' is so complex that it takes the work of many people. Everyone was very helpful, and there were so many different tasks we could always switch things up. The whole experience was a great exercise in teamwork."
Katherine Shanahan, a graduate student in the IU School of Education, also volunteered on "Amatria," assembling the plastic "whiskers" with fluid-filled glass bulbs that hang in the work's "grotto" area.
"I was excited to volunteer because I'm very interested in the intersection of art and technology in my graduate studies," she said. "The notion of sentient and responsive architecture that mimics natural, biological and chemical systems is fascinating."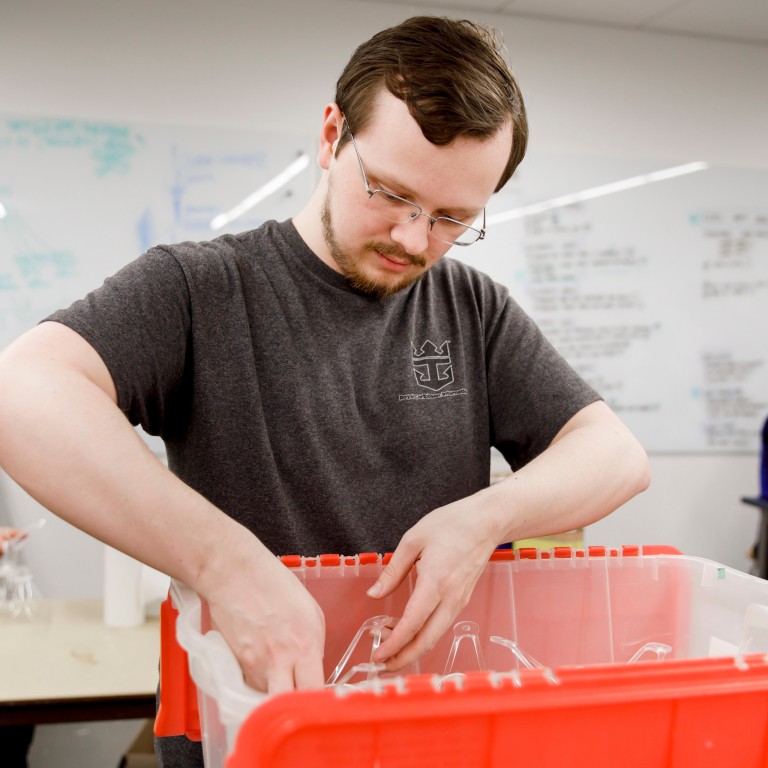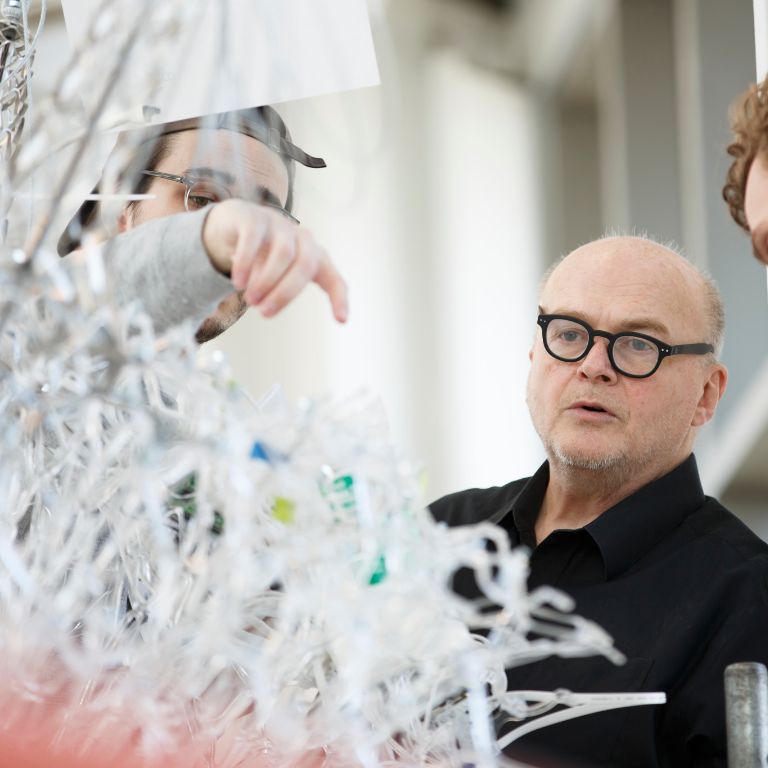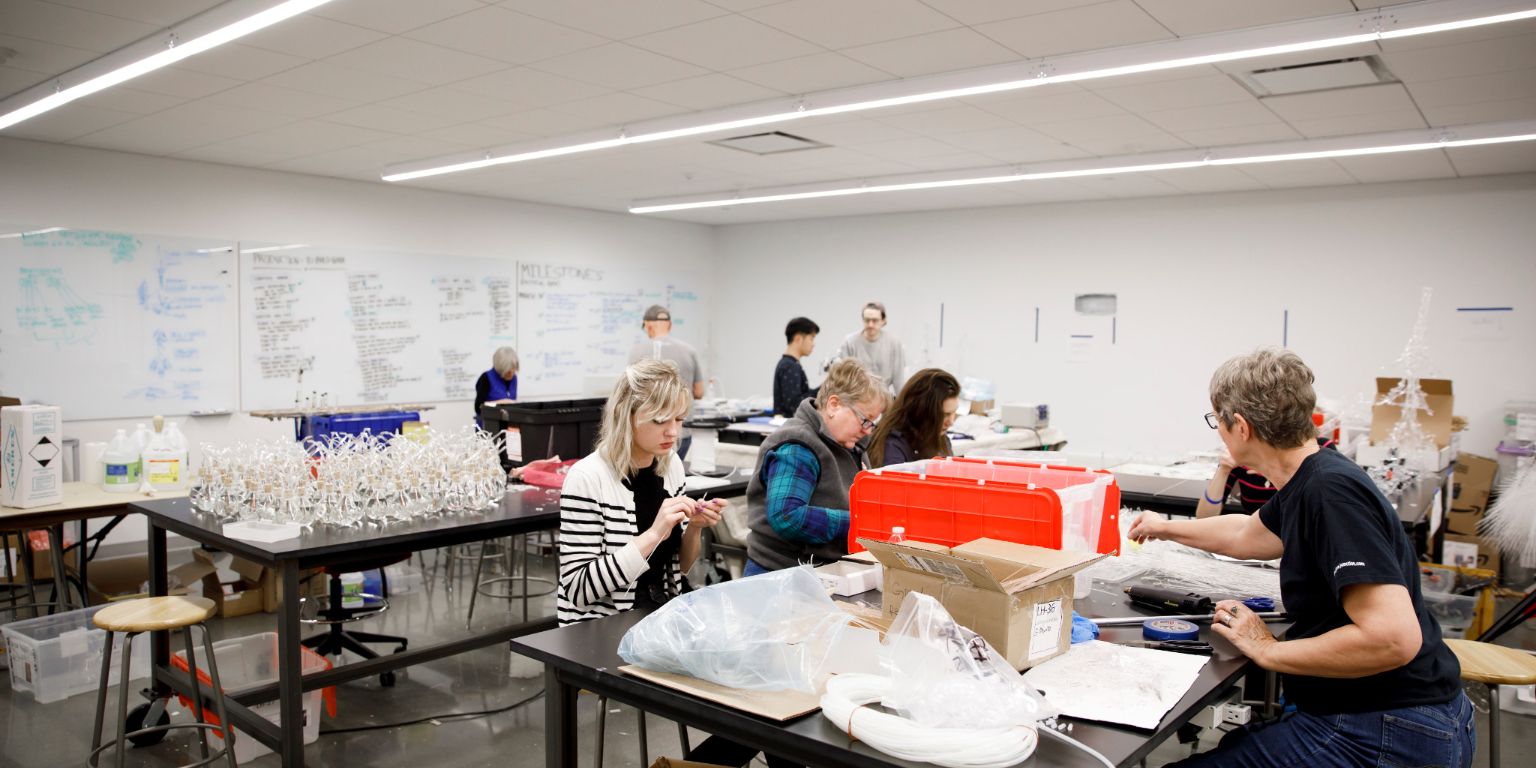 From top: IU senior Nick Root packages vinegar batteries for installation in "Amatria"; Philip Beesley reviews work during the artwork's installation; volunteers assemble some of the hundreds of thousands of highly intricate parts that comprised the final work. Photos by James Brosher, IU Communications
By playing a role in the sculpture's creation, Beesley said, IU students gained experience in wireless technologies, robotics, artificial intelligence, sensors and other cutting-edge subjects. His studio has also designed software developer kits so students can create external components that interact with the art or visualize its activity.
Börner added that "Amatria" will convert the fourth floor of Luddy Hall into an "Internet of Things laboratory" as students learn to program devices that wirelessly communicate with the sculpture's light, motion and sound sensors and the loudspeaker and motor actuators. By working on these projects, students will gain hands-on experience writing code that utilizes data from wireless-enabled devices -- a highly applicable skill in today's internet-connected world.
In addition to creating an artistic focal point for the building, the position of "Amatria" at the top of the central staircase in Luddy Hall is significant since the fourth floor houses the school's intelligent systems engineering program. A hub of technology and creatively, the floor is also home to a large "maker space" with 3-D printers, circuit board soldering stations and other advanced fabrication tools. The sculpture's presence in the center of the action will serve as a continual reminder of program's guiding mission to create the "engineers of tomorrow," fluent in art, science and technology.
"IU Bloomington is a leader in arts and humanities education, and the IU School of Informatics, Computing and Engineering is inventing, implementing and optimizing the next generation of intelligent systems, such as smart cars, health devices and brain interfaces," Börner said. "We hope the magnificent architecture of Luddy Hall, in combination with 'Amatria,' will inspire arts and humanities scholars from campus and beyond to visit our school, and fully engage with its faculty, staff and students."