|

Kara Williams

|

Indiana Daily Student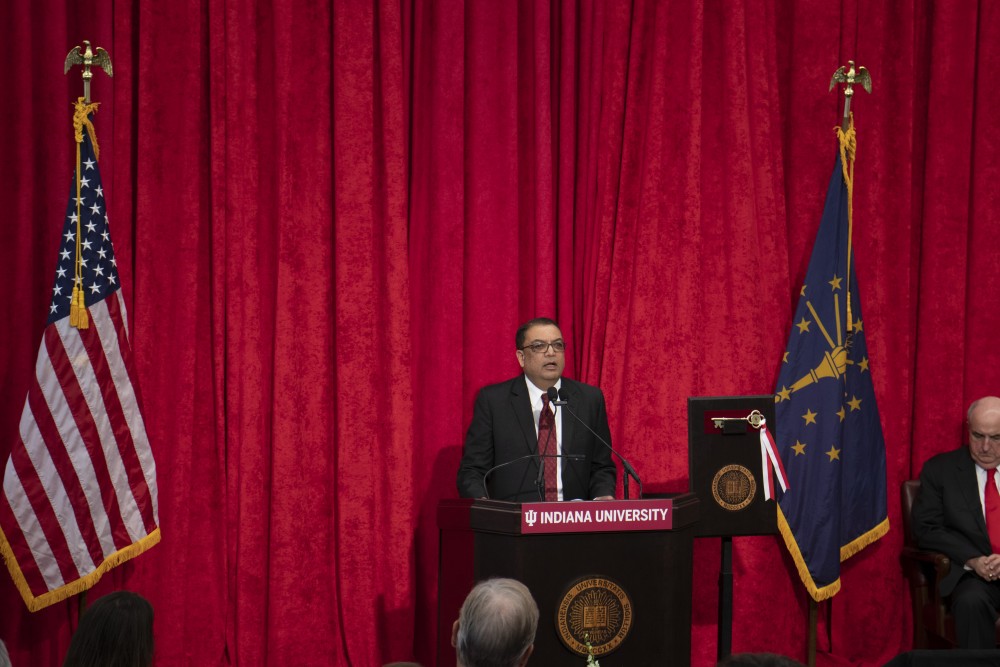 April 13 marked the dedication of Luddy Hall, the newest addition to the School of Informatics, Computing, and Engineering.
The 124,000 square-foot building was designed with light in mind. The school's dean, Raj Acharya, said Luddy Hall's inspiration was "awash with light in search of truth," which mirrors IU's motto, "Lux et Veritas."
President Michael McRobbie led the dedication ceremony. He spoke about the innovation inside the School of Informatics, Computing, and Engineering and Luddy Hall's role in advancing education.
"The dedication of this building today reflects the school's position as an innovator," McRobbie said. "Luddy Hall will inspire creativity, discovery and innovative achievement."
The state-of-the-art building features five intelligent systems labs, 19 conference and focus rooms and 264 student work spaces.
The building also features Shoemaker Innovation Center. Inside is The Shoebox, which is a center for student collaboration. Entrepreneurship is a major focus of this space, and industry professionals give talks there.
Acharya said the building was designed to encourage interaction between students of all disciplines within the school.
"This is one of the most student-centered buildings I've ever encountered," he said.
The emphasis on community and collaboration brings life to the building, Acharya said.
"It's a live building," Acharya said. "Students live and enjoy life here, as well as learn."
Luddy Hall brings the newer engineering part of the SICE into the same space as the rest of the school.
"Here, we're at the border of disciplines," Acharya said. "It's really gratifying to see different students working together."
Luddy Hall also houses the sentient art installation "Amatria." The piece was created by Philip Beesley specifically for the building. The exhibit reacts to people's interactions with it and will be used for research as well as art, Acharya said.
The installation includes light and motion sensors. It lights up, makes noise and moves when it senses people are near.
Acharya said naming the building after Fred Luddy was meant as an inspiration for students.
"It gives them a role model and shows them what they actually can accomplish," he said.
Luddy spoke at the dedication ceremony about IU's importance to him and his family.
"The only thing that will be more rewarding for our family than seeing this thing realized will be seeing what comes out of it — all the students and innovation," Luddy said.