|

SoIC News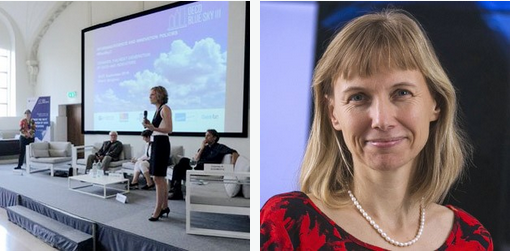 Katy Börner, the Victor H. Yngve distinguished professor of information science at the School of Informatics and Computing, and Cassidy R. Sugimoto, an associate professor of informatics, were among a group of prestigious presenters who spoke at the Organisation for Economic Co-operation and Development Blue Sky 2016 Forum Sept. 19-21 in Ghent, Belgium.
The OECD Blue Sky Forum is held once every 10 years and engages the policy community, data users, and providers in an open dialogue to review and develop its long-term agenda on science, technology, and innovation (STI) data and indicators. It is designed to be an open and unconstrained discussion on evidence gaps in science and innovation, and on initiatives the international community can take to address data needs in this area.
Börner presented in a panel that discussed new models and tools for measuring the impact of science and innovation. She presented a paper titled "Modelling Science, Technology, and Innovation" that she co-authored with associate professor of informatics Staša Milojevic.
"Computational models should be more widely used in STI studies and practice as they help make assumptions explicit, describe the structure and dynamics of systems, communicate and explain systems, suggest possible interventions, and identify new questions," Börner said.
Other members of the panel were Adam Jaffe from Motu Economic and Public Policy Research in New Zealand, Koen Debackere from KU Leuven in Belgium, and Giovanni Dosi from Scuola Superiore Sant'Anna in Italy.
Börner also served as a moderator on a panel focusing on data analytics for science and innovation, which included a discussion of a paper on "High-Impact and Transformative (HITS) Metrics" co-authored with Bruce Weinberg and Joseph Staudt, Ohio, State U, Jerry Marschke and Huifeng Yu, SUNY Albany, and Robert Light, Senior Systems Analyst at IU's Cyberinfrastructure for Network Science Center (CNS).
Interactive data visualizations from the Mapping Science exhibit—which Börner and Lisel Record, CNS curate—were on display at Blue Sky, empowering many to interact with science and technology data in new ways. According to Börner: "Complex datasets, advanced indicators, and the results of computational model runs need to be effectively communicated to a general audience. Well-designed data visualizations can help bridge knowledge, language, and cultural differences."
Sugimoto was part of a panel titled "Towards more inclusive science and innovation indicators," which addressed the broad perception that robust theories and measures that map the ways in which societies seek and adopt novel ideas to address their major challenges are lacking. Sugimoto was joined by Ismael Rafols of the Universitat Politècnica de Valencia in Spain, Eric von Hippel, from the MIT Sloan School of Management, and Ingeborg Meijer of Leiden University in the Netherlands.
"The conference provided an unparalleled opportunity to discuss the system of scientific evaluation with a variety of stakeholders, including representatives from the OECD, academic faculty and administrators, and policy makers and ministers from across the globe," Sugimoto said.
Dr.Vincent Larivière, part of Sugimoto's collaboration with the Université de Montréal, presented their work on gender in science in a parallel session while Sugimoto presented a paper on scientific mobility in a panel titled "Researchers on the move."
"My research—on social media metrics, gender, and scientific mobility—all examine ways in which the current evaluation system provides diversity of voice in terms of the construction of, access to, and reward for scientific work," Sugimoto said. "It's an honor and delight to be able to share my research with a community that is empowered to make changes to improve the way science is monitored and rewarded."