|

SoIC News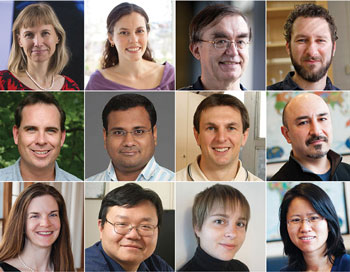 In 2015, Indiana University's Bicentennial Strategic Plan called on the university to identify a grand challenge in which IU had the greatest potential to make a significant contribution in addressing major and large-scale problems facing society.
The initiative selected is grand indeed.
IU president Michael McRobbie announced in June that the Precision Health Initiative, which will be a research initiative focused on patient-centered precision medicine therapies, would be the first recipient of funding under the $300 million Grand Challenges Program. The PHI will create a collaboration with the IU School of Medicine, IUPUI, and multiple entities on the IU Bloomington campus, including the School of Informatics and Computing. The goal: Nothing short of curing cancer.
How's that for grand?
The PHI proposal features a number of bold goals.
"Cure one cancer, cure one childhood cancer, and make progress in one chronic disease and one neurodegenerative disease," said Predrag Radivojac, a professor of computer science who is spearheading SoIC's involvement with PHI. "The cancer we will work on will be multiple myeloma. The childhood cancer will be Fanconi anemia, and for chronic disease, it looks like it is going to be diabetes. For the neurodegenerative, it looks like it is going to be Alzheimer's. Final decisions depend on the quality of currently available data in the IU's Electronic Medical Records, which we are currently analyzing."
The plan is to use precision medicine to battle disease at a genomic level. Precision medicine focuses on the treatment of disease by taking into account patients' individual differences in environment, genes, and lifestyle. Using those factors, treatments could be developed to attack disease at a much more precise level than in the past.
The PHI proposal included an example of precision medicine in action. It cited a case in which a 62-year-old man was diagnosed with an aggressive form of thyroid cancer, with a median survival of three months, at a stage of advanced disease in the neck and metastases to the lung. Chemotherapy was not having an impact, and the patient wasn't expected to live beyond a few weeks. After precision genomics tests were conducted, his tumor was found to have a particular genetic mutation that was then treated with an inhibitor that slowed the disease's progression. He also was found to have another immunosuppressive issue that was allowing the disease to spread rapidly. Treatment for that problem led to a complete radiographic remission, and the patient has remained disease-free for more than a year.
Radivojac, who has spent his career working in bioinformatics and genomic medicine, couldn't be more excited for the opportunity to be a part of the initiative.
"This was one of the main objectives for the bioinformatics field from the get-go," Radivojac said. "At the time, we didn't have a name for it. It was always supposed to be something to improve human health. The term 'precision medicine' was coined just a few years ago, and we, as a community, seemed so well-positioned for that."
How can SoIC help a medical initiative? It will take a collaborative effort. Faculty with ties to bioinformatics, health informatics, machine learning, artificial intelligence, security, high-performance computing, and a host of other areas will come together to do their part.
The size and scope of the PHI puts SoIC in a unique position. A number of schools invest in precision medicine, but those investments are usually focused on medical schools. The PHI approach will allow experts from multiple fields to come together for a common goal, and the breadth of research at SoIC is what made the School's involvement possible.
"We also wanted to do certain things that we think SoIC can drive with precision medicine," Radivojac said. "You can think of this as a data-driven approach. We would like to hypothesize causes of disease and work with doctors or experimental scientists to validate that. Sometimes SoIC will be serving the experimentalists, and sometimes it will be leading them. We are trying to balance those roles."
Radivojac said that although the PHI is focused on curing disease, the SoIC is realistic about its role.
"We alone cannot cure diseases," Radivojac said. "We are a School of Informatics and Computing. But we can boost the basic research component of this initiative. We will first acquire patients' health records, then we will have their genomes, then we will collect data for wearable devices so we can collect their data on a regular basis over a number of years. From medical records to genomes to wearables, it will give us something that hasn't been done yet, even if its scale is 1,500-2,000 people. There are a lot of unknowns, but there are a lot of studies we can do on these types of patients where we can look at the progress on maintaining their disease, whether it grows worse or gets better, and try to correlate the various genomic and lifestyle features through studies and surveys."
The PHI will receive up to $40 million overall to fund its work, and it will lead to dozens of faculty hires and research involvement from graduate students. It all adds up to a major undertaking, one that features a lot of responsibility but will reinforce SoIC's reputation as a cutting-edge leader in research.
"This is a once in a lifetime opportunity," Radivojac said. "There might be other types of challenges that would be grand, but I doubt it could be bigger than this for us. We've been waiting and preparing for this kind of opportunity."
SoIC faculty involved in the Precision Health Initiative include:
Katy Börner, distinguished professor of information science

Kay Connelley, associate professor of informatics

Geoffrey Fox, distinguished professor of intelligent systems engineering

Matthew Hahn, professor of informatics and biology

Steven Myers, associate professor of computer science and informatics

Sriraam Natarajan, associate professor of computer science and informatics

Predrag Radivojac, professor of computer science

Cenk Sahinalp, professor of computer science

Katie Siek, associate professor of informatics

Haixu Tang, professor of informatics and computing

Martha White, assistant professor of computer science

Yuzhen Ye, associate professor of informatics and computing