|

IU Newsroom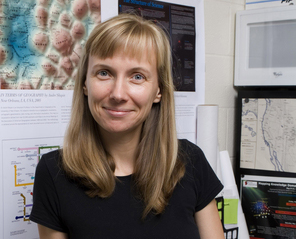 INDIANAPOLIS -- Five Indiana University scholars and researchers have been promoted to distinguished professor, the highest academic rank within the institution.

The appointments were approved today by the IU Board of Trustees at their meeting on the campus of Indiana University-Purdue University Indianapolis.

The five new distinguished professors include IU Bloomington professors Katy Börner, a visualization researcher from the School of Informatics and Computing; Roger P. Hangarter, a molecular plant biologist from the Department of Biology in the College of Arts and Sciences; Stanley Ritchie, a professor of violin and early music in the Jacobs School of Music; and Eliot R. Smith, a researcher of cognition and emotions from Department of Psychological and Brain Sciences in the College of Arts and Sciences. Dr. Bruce Molitoris, a researcher of renal disease at the IU School of Medicine's Department of Medicine in Indianapolis, also has achieved the rank of distinguished professor.

"These individuals exemplify the very best of public education, through their exceptional contributions to a wide variety of disciplines," IU President Michael A. McRobbie said. "Through research, teaching and service, all of them have consistently achieved the highest standards of academic scholarship, leadership and integrity. We are proud to honor these outstanding members of our faculty with Indiana University's most prestigious appointment."

The distinguished professorship recognizes faculty who have transformed their fields of study and have earned international recognition. Faculty, alumni, professional colleagues and students nominate the field of candidates, based on outstanding research, scholarship and artistic or literary distinction. Nominations are reviewed by the University Distinguished Ranks Committee, which recommends appointments.

The university's annual Celebration of Distinguished Teaching will take place April 8 in Alumni Hall at the Indiana Memorial Union in Bloomington. The new distinguished professors will be formally recognized at the event.

Below are brief biographies, which link to longer profiles on the University Honors and Awards website:

Katy Börner

Börner, the Victor H. Yngve Professor of Information Science in the School of Informatics and Computing, is an internationally recognized expert on data visualization. At IU, she is a research affiliate of the Center for Complex Networks and Systems Research and the Biocomplexity Institute and founding director of the Cyberinfrastructure for Network Science Center.

She is author or co-author of more than 180 peer-reviewed publications, including her influential monograph "Atlas of Science: Visualizing What We Know." She also curated the international traveling exhibition "Places and Spaces: Mapping Science." Börner was named a fellow of the American Association for the Advancement of Science in 2012.

View the full story at IU Newsroom.