|

CNS News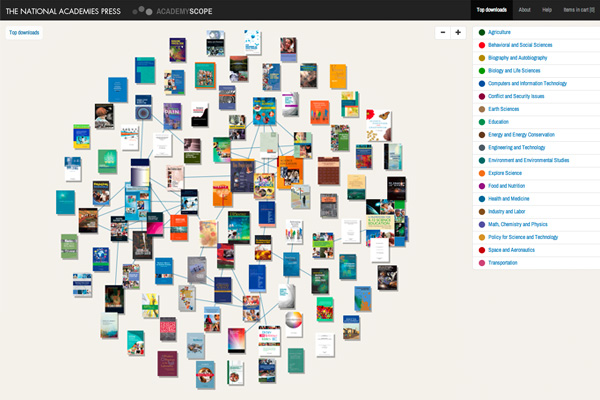 The state-of-the-art, interactive touch-screen visualization developed by CNS is now available on the web.

Beginning October 24, 2014, a web version of AcademyScope is available to the public on the National Academies Press website. Visitors can access it from the "Browse by Topic" menu on the NAP homepage, or via the "Browse Topics" button in the header on every interior page. The application can also be accessed directly at www.nap.edu/academy-scope.

The web application functions exactly like the original touch-screen application. The default view shows the 100 most frequently downloaded reports of the previous seven days as well as newly released reports. When a report is downloaded, a popup is shown containing the total number of downloads (current within one minute).

Clicking any of the topic buttons on the right opens the sub-topic "bubble" visualization (shown at left); any sub-topic "bubble" can be selected to display the sub-topic network. Clicking any individual publication opens the associated sub-topic network as well as the detail panel for that particular publication, which offers the full abstract, links to buy the publication or view it online, and links to related publications.

The original AcademyScope application was designed and programmed by a CNS team comprised of Katy Börner, Chin Hua Kong, Samuel Mills, Adam Simpson, Bhumi Patel, and Rohit Alekar. It was adapted for the web by Juan Thomassie.