|

Wonderlab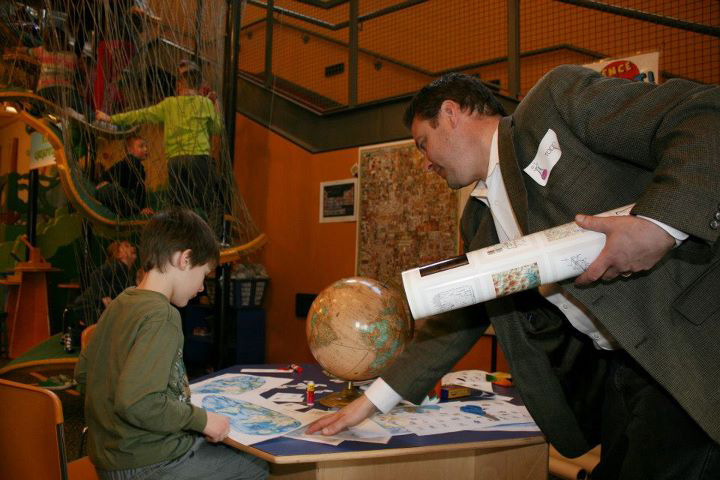 Bloomington, Indiana – Enjoy half-price museum admission during First Friday Evening as you explore the art and science of mapping your world with experts from Places & Spaces: Mapping Science at the WonderLab Museum of Science, Health and Technology in Bloomington during Science of Art: Community Mapping on April 4 from 5:00 pm to 8:30 pm! In related activities, visitors can make a personal "hot spot" map of places in the community that matter to them, design an abstract city bus map, create a map of their social networks, and try more fascinating mapping activities. Volunteers from the Indiana University Dance Marathon will help guide hands-on activities.

The Science of Art series' purpose is to expose visitors of all ages to a different artistic medium each month, as well as to show the connections between art and science. The activities are recommended for all ages and are included with museum admission. The program is sponsored by F. Rudolf Turner with additional grant support from Ivy Tech Community College ­ Bloomington, the Community Foundation of Bloomington and Monroe County, the Indiana Arts Commission, and the National Endowment for the Arts.

Half-price general museum admission ($3.50) will be in effect from 5:00 pm until the museum closes at 8:30 pm. A small plate meal, freshly prepared by Bloomingfoods, will be available to buy ($2.50) in the WonderLab café. Free parking spaces are available in the 4th Street Parking Garage.

The nearby Ivy Tech John Waldron Arts Center (corner of S. Walnut and W. 4th St.) will be open First Friday Evening with a reception for the opening of art exhibitions by Indiana University Fine Arts faculty (computer-aided design and 3-D printing), Ryan Logan (mixed media), Ivy Tech Fine Arts students (various media), and Ivy Tech Associate of Fine Arts Degree students (various media).