|

Kerry Britt

|

George A. Smathers Libraries: Library News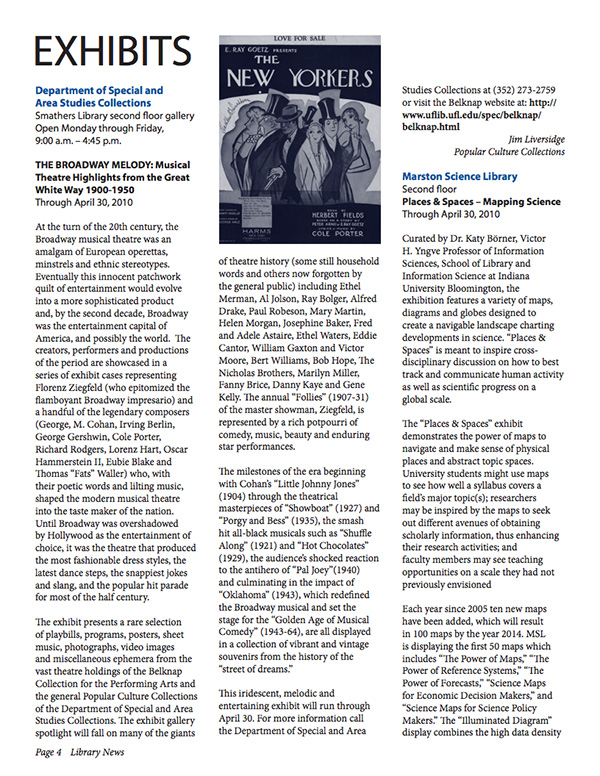 Marston Science Library
Second floor
Places & Spaces – Mapping Science
Through April 30, 2010

Curated by Dr. Katy Börner, Victor H. Yngve Professor of Information Sciences, School of Library and Information Science at Indiana University Bloomington, the exhibition features a variety of maps, diagrams and globes designed to create a navigable landscape charting developments in science. "Places & Spaces" is meant to inspire crossdisciplinary discussion on how to best track and communicate human activity as well as scientific progress on a global scale.

The "Places & Spaces" exhibit demonstrates the power of maps to navigate and make sense of physical places and abstract topic spaces. University students might use maps to see how well a syllabus covers a field's major topic(s); researchers may be inspired by the maps to seek out different avenues of obtaining scholarly information, thus enhancing their research activities; and faculty members may see teaching opportunities on a scale they had not previously envisioned.

Each year since 2005 ten new maps have been added, which will result in 100 maps by the year 2014. MSL is displaying the first 50 maps which includes "The Power of Maps," "The Power of Reference Systems," "The Power of Forecasts," "Science Maps for Economic Decision Makers," and "Science Maps for Science Policy Makers." The "Illuminated Diagram" display combines the high data density of two large prints – a map of the world and a map of science – with the flexibility of an interactive program driving a touch panel display and two projectors that illuminate the maps. Touching a science area on the lectern's touch screen leads to an illumination of the origin of all papers on the selected scientific topic in the geographic map.

The World processor globes bring dimensionality to three diverse views of scientific inquiry and global diffusion. Foreign U.S. patent holders are represented in a relationship scaled by productivity; worldwide patent grants are plotted on a global scale through history, and geomorphic representations of areas of exceptional innovation and productivity; finally, science itself is shaped into sculptural form that is generated from the proximity of scientific fields of research to each other.

A reception serving light refreshments will be held at MSL on Thursday, March 18 from 3:15 to 6:00 p.m. During the reception "The Story of Science Maps" will be presented by Börner. Also featured are Dr. Robert Hatch, UF associate professor of history, and Jason Harrington from the UF graduate school of mathematics. "Places & Spaces" exhibitions have also been held at Stanford University, University of Alberta, Institute for Research Information and Quality Assurance in Bonn, Germany, National Science Foundation in Washington, D.C., Storm Hall, San Diego State University and WDG Architecture, Washington, D.C.

The online counterpart at http:// scimaps.org provides links to a selected series of maps and their makers along with detailed explanations of why these maps work.