|

Alice Lipowicz

|

Federal Computer Week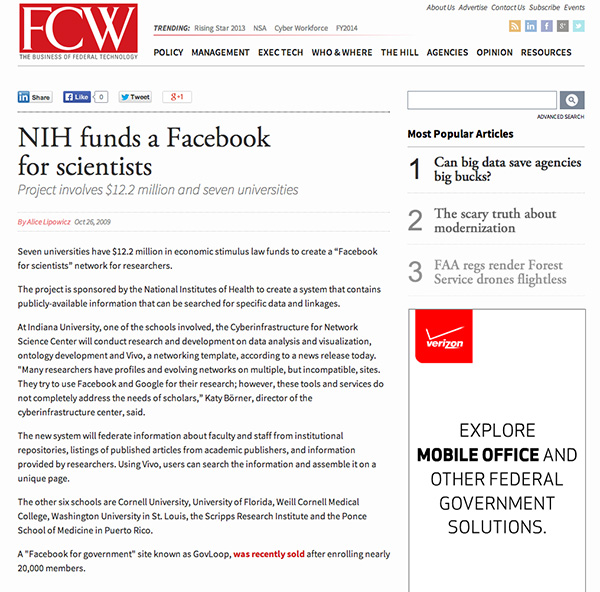 Project involves $12.2 million and seven universities
Seven universities have $12.2 million in economic stimulus law funds to create a "Facebook for scientists" network for researchers.

The project is sponsored by the National Institutes of Health to create a system that contains publicly-available information that can be searched for specific data and linkages.

At Indiana University, one of the schools involved, the Cyberinfrastructure for Network Science Center will conduct research and development on data analysis and visualization, ontology development and Vivo, a networking template, according to a news release today. "Many researchers have profiles and evolving networks on multiple, but incompatible, sites. They try to use Facebook and Google for their research; however, these tools and services do not completely address the needs of scholars," Katy Börner, director of the cyberinfrastructure center, said.

The new system will federate information about faculty and staff from institutional repositories, listings of published articles from academic publishers, and information provided by researchers. Using Vivo, users can search the information and assemble it on a unique page.

The other six schools are Cornell University, University of Florida, Weill Cornell Medical College, Washington University in St. Louis, the Scripps Research Institute and the Ponce School of Medicine in Puerto Rico.

A "Facebook for government" site known as GovLoop, was recently sold after enrolling nearly 20,000 members.