|

SICE News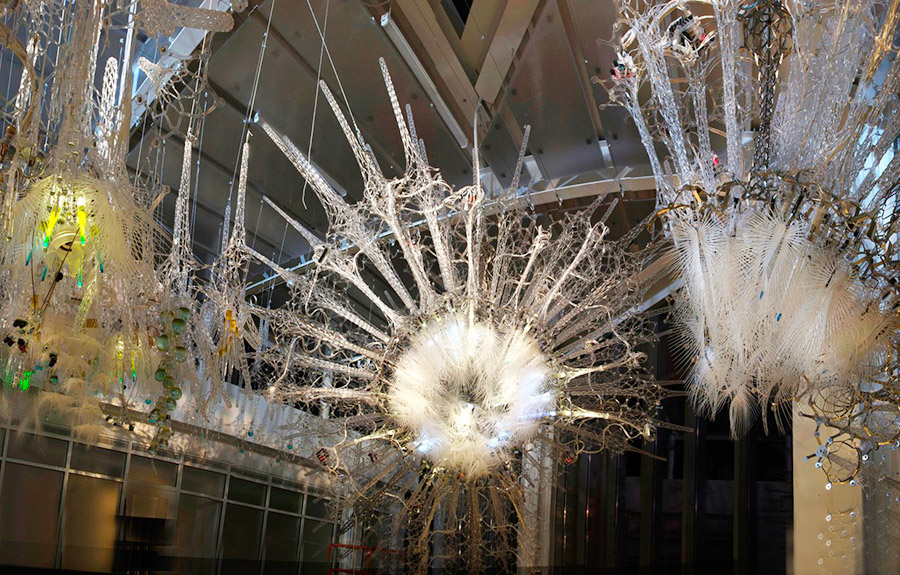 LuddyFest, the week-long celebration of innovation and the opening of Luddy Hall, the new home of the School of Informatics, Computing, and Engineering, shifted into high gear Wednesday with a full slate of events designed showcase the possibilities technology presents for the future.
"There is a real buzz about LuddyFest not only in the SICE but around town," said Raj Acharya, dean of SICE. "There is something to pique the interest of anyone interested in technology, and this entire week is just a great example of all the different ways our faculty and students are developing innovations that will shape tomorrow."
The day opened with a keynote presentation from Ge Wang, an associate professor of music and computer science at Stanford, who discussed the notion of the humanist engineer. Wang, who developed the ChucK audio programming language, spoke about the importance of design making a user "feel" something through its use.
"Design matters," Wang said. "Aesthetics matter. It's not just form or function that gives a design meaning. It should make you feel something inside."
Wang used the ChucK programming language to create the Ocarina app, mobile software that allows people to blow into their smartphone and synthesize the sound of an ocarina. Through the app, users can make their musical pieces available around the world to other users of the app while showing the general area of the piece's origin. It creates a bond between users that is both lonely in a sense but also creates a sense of community.
Wang also showcased how technology is creating innovative ways to create and share music, whether it is using a laptop as an accordion—users open and close the laptop, which uses the device's camera to judge distance and, in turn, create sounds—or through a social karaoke app that can allow users from around the world to sing together and strengthen the sense of community.
"The humanist engineer doesn't just design out of need," Wang said. "There's also a consideration of values and intentionally imbuing the things we need with some of our values. The humanist engineer should try to blend the means and the ends to get at the heart of the synthesis of both."
Wang's presentation was followed by an Innovation Roundtable in the Shoemaker Innovation Center featuring Fred Luddy, the founder of ServiceNow and a critical supporter of Luddy Hall, Jane Martin, the general partner of Village Ventures, and John Shoemaker, the chairman of the board of directors of Extreme Networks, Inc. The informal discussion featured a Q&A session offering advice to the filled room of students, providing the opportunity for Luddy, Martin, and Shoemaker to use their own experiences to inspire.
They also said that as entrepreneurs and investors, passion and a belief in an idea or product is far more important than the potential of any financial reward.
"I'm no different than your average kindergartner," Luddy said. "I want to see my art on your refrigerator. That's why I do what I do—to spread the idea and innovation."
The Intelligence System Engineering program also stepped into the spotlight with a showcase in the fourth-floor fabrication lab. Projects were presented by various ISE classes, and they included increasing the efficiency of data transfer to reduce the load on a "smart" network, programming a robotic vehicle called the "CrimsonBot," improving operational data for firefighters and public safety workers in the case of wildfires through the use of drones and remotely controlled vehicles, developing a brain-computer interface that allows users to control a robot using just their minds, engineering cyber-physical systems for a light monitoring system in the Hoosier National Forest, and more.
The Cheng Wu Innovation Challenge took over Dorsey Learning Hall in mid-afternoon as students participated in a contest to develop their technological innovations unconstrained by the immediate consideration of the commercial potential of the innovations. Eight teams competed as finalists, and Buddy the robot, which provides contextual speech therapy to children dealing with cleft lip and palate, took home first place, earning $7,500 of the $15,000 total prize money. Small Donation-Big Impact, a donation system that could visually represent the impact of a donor's contribution at an interactive kiosk, and Pulsar-based Terrestrial Navigation, a new navigation system that uses radio signals from neutron stars, shared the second-place prize to earn $3,750 each.
The contest was judged by Brad Wisler, founder and CEO of Periodic, and co-founder and managing partner of SproutBox; Don Kuratko, Jack M. Gill Chair of Entrepreneurship, professor of entrepreneurship, and executive director of the Johnson Center for Entrepreneurship & Innovation, Kelley School of Business; and Dustin DuBois, partner at Ice Miller, as well as Shoemaker, Luddy, and Martin.
The fourth-floor Visualization Lab hosted the Vis Lab Showcase, where faculty and students presented data and scientific visualizations as well as augmented and virtual reality applications. From using 3D modeling to map the brain to using visualizations in computer models to measure how different treatments might impact the fight against cancer, presentations showed the potential for bringing data to life through computing.
Day three of LuddyFest came to a dramatic conclusion after dark with the unveiling of Amatria, the custom sentient art installation from world-renowned architect Philip Beesley. Percussionists led a procession of students from the ground floor to the top of Luddy Hall to light Amatria and officially dedicate the soon-to-be iconic piece of artwork.
Amatria was designed to interact and react to its environment, and it was installed with the help of Beesley's team and a number of SICE volunteers.
Research steps into the spotlight Apr. 12 as Research Horizons opens. Held from 9 a.m.-5 p.m. in Dorsey Learning Hall, Research Horizons features TED-style lightning talks highlighting research being conducted at SICE, and it provides an opportunity to meet our faculty, celebrate 50 years of computer science at IU, and explore the latest technologies and research developments in our school. High performance computing, security, and data science will be the focus of day one of the event.
Ian Rogers, the chief digital officer for LVMH and former senior director of Apple Music, will provide a keynote address at Research Horizons at 11 a.m. Rogers is a SICE alumnus in computer science.
From 12-2 p.m. in the Community Center (Room 1006), Professor of Informatics Bernard Frischer will host "What is Virtual Heritage and Why Does It Matter?" a talk focusing on his research which will be followed by a demonstration by his students featuring augmented and virtual reality. Frischer's work focuses on the use of 3D renderings of historical sites to bring them to life fully restored in a virtual world.
Thursday's events will conclude with the Renaissance Engineer Panel Discussion in Dorsey Learning Hall from 4-5 p.m. Rogers, Wang, and Beesley will be joined by Acharya and Distinguished Professor of Engineering and Information Science Katy Börner for a discussion about what it means to be a renaissance engineer. The panel will be hosted by IU's vice president for information technology and chief information officer Brad Wheeler, who is a former dean of SICE.
Luddy Hall is named after IU alumnus Fred Luddy, the founder and chief product officer for ServiceNow who also developed the concept of platform as a service in cloud computing, who provided an $8 million gift for the construction of the building. Ground was broken on the $39.8 million facility in October 2015 and was completed on schedule.
For more information on LuddyFest, visit our website.