{content=
Workshops
Web of Science as a Research Dataset
Date:
November 14-15, 2016
Organizers: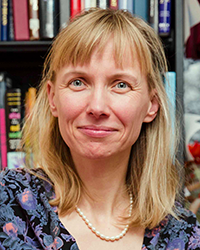 Victor H. Yngve Distinguished Professor of Information Science
Director, CI for Network Science Center Curator, Mapping Science Exhibit
School of Informatics and Computing
Indiana University, Bloomington
ude.anaidni@ytak


Executive Director
Knowledge Lab
University of Chicago
eduede@uchicago.edu



Head of Industry Development
Clarivate Analytics


Workshop Goals
This workshop brings together data scientists and data stewards from research centers that are using the Web of Science™ at scale. We will explore WoS from the perspective of a research dataset and work together on practical ways to better support our research in the future. While the main focus will be on the Web of Science, the results should be extensible to all similar metadata aggregations. This unique focus—bringing data stewards and data scientists from these centers together to work on shared needs in tandem with the Web of Science team—will enable us to redefine and fully repurpose WoS to fit our research goals. We intend to launch an ongoing community in which we will learn techniques and develop tools to improve the data that underlies our research.
Advance Preparations
Data stewards will provide a short profile of how WoS as a dataset is being implemented in the context of their research center/university and the technical, content, and other challenges they are facing.
Researcher data scientists will prepare a short profile of current research projects leveraging the WoS dataset, focusing on key challenges such as linking, disambiguating, mining, etc. that, if solved, would offer greater research opportunities.
Schedule:
Monday, November 14, 2016
12:00pm
Arrival, Light Lunch
12:30pm
Welcome and Introductions
1:00pm
Session 1: Web of Science "Outside the Box"
Facilitator: Katy Börner
The Web of Science and similar metadata datasets are housed, maintained, and enhanced in local institutional enclaves. This session looks at how data scientists and managers set up the WoS dataset in an enclave, disambiguate the data (names, institutions, and geolocations), link it to other datasets, and build predictive models.

2:00pm
Wrap Up: Discussion will focus on identifying key data challenges in these areas.
2:30pm
Break
3:00pm
Session 2: Breakthrough Research
Facilitator: Eamon Duede
A "lightning round" look at examples of new questions asked and answered in recent research across network science, science of science, scientometrics, and science policy. We will explore how WoS and related large-scale datasets enabled these new questions to be addressed and whether enhancements to the dataset could have better supported the research.
2:00pm
Wrap Up: Discussion will focus on identifying key data challenges in these areas.
4:30pm
Day 2 Preparation:
Establish "big questions" for the breakout teams. Set up for hackathon.
5:00pm
Adjourn
6:30pm

Dinner
Tuesday, November 15, 2016
8:00am
Breakfast, Initial Breakout Team Meetings
9:00am

Session 3: Understanding Web of Science as Research Data

Facilitator: Jason Rollins
For over 50 years, the Web of Science evolved as a dataset in response to changing research contexts and priorities. Today, more researchers are using the Web of Science "at scale" to ask and answer powerful new questions about the shape, dynamics, and veracity of science and scholarship. The Web of Science now appears both an object of inquiry its own right and a vast sensor network for discerning large-scale trends. What is changing in this dataset to support these new uses, and what could change further? Presentations and discussion led by Clarivate Analytics team.
10:30am
Break
11:00am

Session 4: Hackathon Breakout Sessions
Facilitators: Eamon Duede, Jason Rollins, and Ted Lawless
A mix of sessions determined by 3-4 "big questions" prioritized on Day 1, grouped as:

Technical Hackathon(s): Practical Focus on applying code across research centers in such areas as data disambiguation (names, institutions, geolocations), linking WoS data to other datasets, building models to predict gender, ethnicity, etc.
Topical Hackathon(s): Working across research centers on Authorship & Collaboration; Gender in Science; Topic Modeling and/or other topics defined by attendee interest.
Community Hackathon: Focus on establishing an ongoing community (e.g. setting up an enclave, tools & mechanisms for sharing code, citing and acknowledging contributions, and/or what is appropriate for cross-enclave sharing).

12:00pm
Working Lunch
3:00pm
Group Discussion
Facilitators: Katy Börner, Eamon Duede, and Jim Pringle
Group Discussion: Lessons, and results. What kind of community should we be?
4:00pm
Wrap-up
Photos:
Invited Participants
Interested but could not attend.
}