{content=
Workshops
How to Measure, Map, and Dramatize Science
Photos: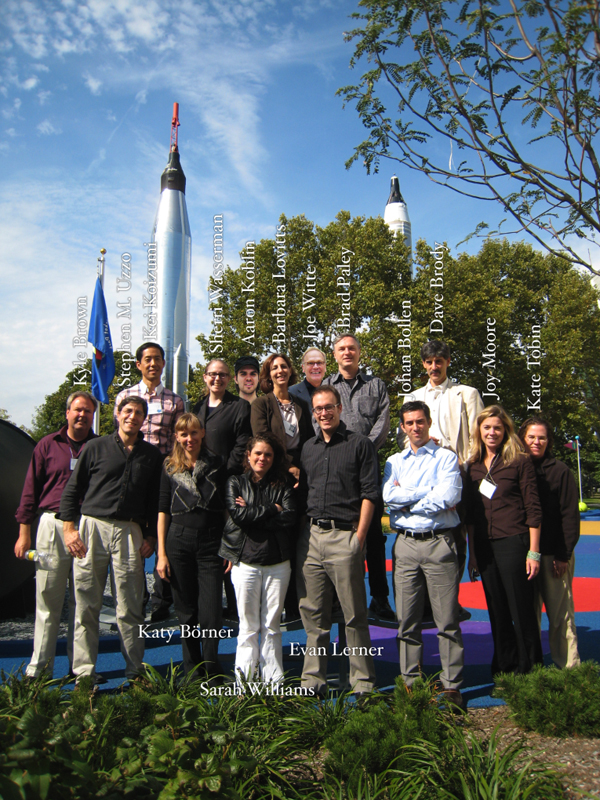 See
more pictures
from the workshop
Organizers:


Workshop Goals & Agenda:
This 1 ½ day workshop brings together science map makers, researchers and the media to invigorate the public discussion and appreciation of science, research and the metrics that make it understandable to all. Demonstration of existing approaches, tools, and techniques as well as discussion of synergies, will provide a point of departure for developing ideas about the future and practicality of broadcasting science and technology forecasts for public consumption.

Given the diverse backgrounds of the participants and the goals of the workshop, we will use the first ½ day for brief self-introductions, followed by three 30 min overview talks that set the stage for the workshop. The day concludes with a discussion of challenges and opportunities and a shared dinner. The second full day features brainstorming and discussion sessions in different team sizes and combinations.
Schedule:
Thursday, October 1, 2009
12:00pm
Welcome by Margaret Honey
12:05pm
Welcome by Organizers (Katy Börner, Stephen M. Uzzo, Joy Moore)Slides
12:15pm
Introduction by Participants (7 min per person/organization)
3:30pm
Overview Talks

Modeling Science – Theory and Practice (Katy Börner)
Visual Vocabularies Mapping Cognitive Distinctions: Using Rich Perceptual Representation to Ease Cognitive Categorization (W. Bradford Paley)
News Acquisition, Compilation, and Broadcasting – How News is Made Today (Karen Jaffe)

5:00pm
Break
5:30pm
Discussion of Opportunities and Challenges
6:30pm
Adjourn
7:00pm
Joint dinner at Deluge, Sheraton LaGuardia East Hotel
Friday, October 2, 2009
| | |
| --- | --- |
| 9:00am | Light Breakfast |
| 9:30am | Breakout Session on "National Science Forecasts—Markets, Utility and Formats" |
| 11:00am | Breakout Session Reports Slides |
| 11:30am | Identifying Best Ideas |
| 12:30pm | Joint Lunch |
| 1:30pm | Open Laptops |
| 2:00pm | Interactive Timeline Assembly |
| 3:00pm | Breakout Session Reports Slides |
| 3:30pm | Break |
| 4:00pm | Collaboration and Funding Opportunities & Next Steps |
| 5:00pm | Adjourn |
Participants Attending:
Directions
to New York Hall of Science
FROM LAGUADIA AIRPORT
Grand Central Parkway eastbound to Exit 10, bearing right to follow the Midtown Tunnel signage. Right on Corona Avenue. Right on 111th Street. Right at 49th Avenue into the New York Hall of Science entrance drive.
FROM KENNEDY AIRPORT
Airport Exit (JFK Expressway to I-678 N/ Van Wyck Expressway. Merge onto Grand Central Parkway West via Exit 10 toward La Guardia Airport/ Triboro Bridge. Exit 10W at I-495/ Long Island Expressway Toward Midtown Tunnel. Stay on Service Road. Turn Right at 108th Street. Right on 52nd Avenue to 111th Street. Left on 111th Street. Right at 49th Avenue into the New York Hall of Science entrance drive.

Acknowledgments:
This effort is supported in part by the National Science Foundation under Grant No. IIS-0715303 and the Cyberinfrastructure for Network Science Center at Indiana University and the New York Hall of Science. Any opinions, findings, and conclusions or recommendations expressed in this material are those of the author(s) and do not necessarily reflect the views of the National Science Foundation.

}