Workshops
Mapping the History and Philosophy of Science
Date:
June 17-June 18, 2009
Photos: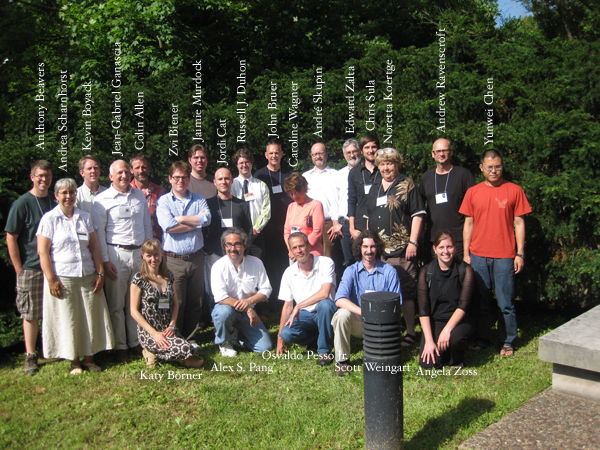 See
more pictures
from the workshop
Organizers:


Workshop Goals & Agenda:
This is a small-scale workshop that brings together History and Philosophy of Science (HPS) researchers that like to dig in data and science map makers that model and map the landscape of science, see http://scimaps.org for sample maps. The goal of the workshop is to explore synergies between these two research areas in terms of
Demonstration of existing approaches, tools, and techniques and discussion of synergies.
Discussion of different conceptualizations, existing datasets and tools.
Identification of opportunities and challenges.
This is a 1 ½ day workshop. Given the diverse backgrounds of the attendees and the goals of the workshop, we will use the first ½ day for brief self introductions of the participants, followed by three 30 min overview talks that set the stage for the workshop. The day concludes with a discussion of challenges and opportunities and a shared dinner. The second full day features brainstorming and discussion sessions in different team sizes and combinations. All sessions take place in Room LI001, Herman B Wells Library, IUB.
Schedule:
Wednesday, June 17th, 2009
12:00pm
Welcome by Organizers PPT
12:15pm
Introduction by Participants (7 min per person/organization = 22 slots) Led by Colin Allen
3:00pm
Break
3:30pm

Overview Talks

The history of mapping science (Katy Borner)
Philosophy & Science: Equally Connected? (Colin Allen)
History of science and how it might relate to the topic of the workshop (Katy, Colin & Alex) [PPT]

5:00pm
Break
5:30pm
Discussion of Opportunities and Challenges Led by Colin Allen & Katy Borner
6:30pm
Adjourn
7:00pm
Joint dinner at Siam House, 430 E 4th Street, (812) 331-1233

Thursday June 18th, 2009
9:00am
Light Breakfast
9:30am
Breakout Session on "Collaboration Opportunities".

Mapping science techniques applied to HPS (Led by Alex Pang) [PPT]
HPS techniques and approaches applied to the mapping of science (Led by Jean-Gabriel Ganascia) [PPT]

Please identify the most promising collaboration opportunities.

11:00am
Breakout Session Reports
11:30am
2nd Best Ideas
12:00pm
Joint Lunch
1:00pm

Breakout Session on "Conceptualizations, Datasets, and Tools"

Conceptualizations of scientific structure and growth (Boundaries of the system or object. Basic building blocks of science, e.g., units of analysis or key actors. Interactions of building blocks, e.g., via coupled networks. Basic mechanisms of growth and change. Existing laws (static and dynamic). etc.). (Led by Andrea Scharnhorst) PPT
Datasets relevant for the mapping of science and HPS (Led by Caroline Wagner) [PPT]
Algorithms and tools relevant for the mapping of science and HPS (Led by Kevin Boyack) [PPT]

Please compile a listing of major conceptualizations, datasets and tools.

2:00pm

Breakout Session Reports

2:30pm

Break

3:00pm

Breakout Session on "Opportunities and Challenges"

Historians of science (Led by Jordi Cat) [PPT]
Philosophers of science (Led by Colin Allen) [PPT]
Science map makers (Led by Andre Skupin) [PPT]

Please identify the most important opportunities and challenges for joint progress.

4:00pm

Breakout Session Reports

4:30pm

Discussion of Next Steps, Funding Opportunities, etc. [PPT]

5:00pm

Adjourn
Participants Attending: