Current Team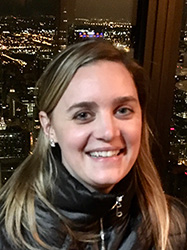 Heidi Schlehlein
Medical Illustrator
Office: remote
Phone:
Fax:
E-mail: ude.ui@helhcsh
Education
BA in Fine Art and Psychology from Concordia University Wisconsin; MS in Biomedical Visualization from University of Illinois- Chicago

Background
Out of graduate school I worked for a company in Lake Bluff, IL as a medical modeler, creating anatomical models that were manufactured and sold throughout the world. After a few years, I branched out into freelance and learned graphic design skills, working for several ad agencies and most recently, the University of Illinois-Chicago as a digital and graphic designer. I also continue to make 3D printed medical models for researchers and pharmaceutical companies under my own company, SciSculpt.

Personal
I enjoy learning new things- recent hobbies have included Spanish, guitar, cornet and cross-country skiing. I also like to backpack and travel with friends, read in my hammock and throw pottery. I enjoy spending time with my four nieces and nephews, my pet rabbit and basset hound.