Current Team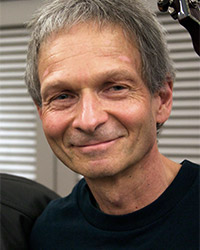 Peter Kienle
IoT Assistant
Office: Luddy Hall 4025
Phone:
Fax:
E-mail: ude.ui@elneikmp
Education
Progymnasium, Tailfingen, Germany
Jazz School Munich, Germany

Background
Professional musician since age 18. Publishing of original music books and layout & design of books for Jamey Aebersold. Lifelong interest in electronics, building stuff and repairs around the house. Computer programming since age 23, using Assembly, C and other languages. Building a small 3D Printer in 2008, a CNC router and various other computer controlled machines required the construction of a small backyard workshop to put it all in. On staff for CNS since Summer of 2017. Helping with laser cutting, designing and other activities. Makerspace technician for SICE since Summer 2019.

Personal
I live a little north of Bloomington in the country with my wife, my daughter who is a high school senior, and a small Maltese poodle. With my piano playing wife I co-lead the jazz-rock-fusion group "The Time Flies" and sometimes we actually travel to exotic places to play to enthusiastic crowds.