Current Team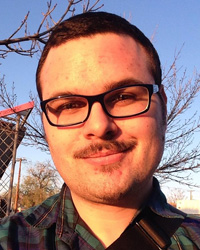 Michael Ginda
Senior Research Analyst
Office: Luddy Hall 4022
Phone: 812.855.3259
Fax: 812.855.6166
E-mail: ude.anaidni@adnigm
Education
B.A., Political Science – Temple University, Philadelphia, PA (2008)
Masters of Library Science, with a specialization in Digital Libraries - Indiana University, Bloomington, IN (2014)

Background
I joined CNS in January of 2014, while completing my masters in library science. Prior to this, I worked as the Teaching Assistant for a course on Semantic Web technology and Student Technology assistant for the Department of Information and Library Science at Indiana University. As part of CNS, I am the assistant instructor for the Information Visualization MOOC, and create documentation for the Science of Science Tool.

Personal
I enjoy spending my free time cooking for my friends and family, listening to music and spending too much time in record stores, biking when the weather is nice, and cleaning up after my cat.