Current Team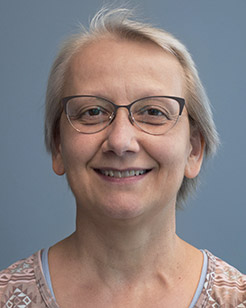 Ellen M Quardokus
Senior Research Analyst
Office: Luddy Hall 4025B
Phone: 812-856-2954
Fax:
E-mail: ude.anaidni@qmnelle
Education
MS/BS Biological Sciences, University of Wisconsin-Milwaukee

Background
Ellen joined CNS in July 2019 to work full time with Katy Börner's data visualization team as part of a challenging and exciting new effort to spatially and semantically map and visualize molecular datasets to the human body through the NIH Human Biomolecular Atlas Program (HuBMAP). She is a trained molecular biologist and light and electron microscopist and brings 30 years of laboratory research experience in DNA sequencing platforms, technologies & analysis, image analysis, bacterial genetics, protein biochemistry, scientific software & user interface beta testing and 5 years of laboratory teaching experience in human anatomy and physiology, histology, human genetics and comparative anatomy.  As part of her biology research career, she managed day-to-day laboratory infrastructure including equipment maintenance & training, database creation and maintenance, developed, optimized, wrote and standardized laboratory protocols, worked closely with safety and compliance offices, mentored many undergraduate and graduate students and published her research.

Personal
I am passionate about interdisciplinary science research and communication, languages, teaching and mentoring. I enjoy exploring new technologies, various crafts, writing, orchid growing, flower gardening, hiking, traveling, photography, experimenting with new recipes and bringing people together with home-cooked foods and pastries.