Current Team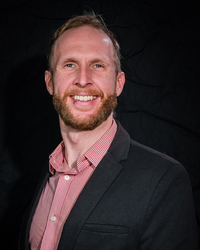 Andreas Bueckle
Research Scientist
Office: Luddy Hall 4024
Phone:
Fax:
E-mail: ude.ui@elkceuba
Education
Ph.D. in Information Science, Indiana University
M.A. in Communications, Berlin University of the Arts (Germany)
B.A. in Media Studies, Eberhard Karls University Tuebingen (Germany)

Background
I am a Research Scientist here at CNS. My research interest is interactive information visualization in virtual reality (VR), augmented reality (AR), and other immersive techniques. Born and raised in Germany, I developed a deep interest in digital artifacts, most notably videography and photography. After working as a video journalist and cameraman on projects in Germany, France, India, and the US, I decided to switch to a more technical education and received my Ph.D. in Information Science, working with Dr. Katy Börner here at CNS before joining her team full-time. The title of my dissertation was "Optimizing Performance and Satisfaction in Virtual Reality Environments with Interventions using the Data Visualization Literacy Framework" and is available here: https://doi.org/10.13140/RG.2.2.33214.00328.

You can find more info about my work on my website: https://andreas-bueckle.com/

Personal
In my spare time, I enjoy the great outdoors by competing in local and regional sailing regattas with my 14-foot Force 5 sailboat. I am also the Head Coach of the Sailing Club at Indiana University, where I teach the basics of sailing, seamanship, and advanced racing strategies. Recently, I started rock-climbing in our local gym.