Current Team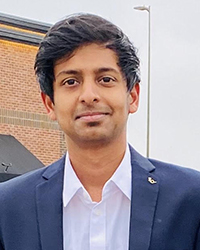 Yash Kumar
Graduate Researcher
Office:
Phone:
Fax:
E-mail: ude.ui@amukhsay
Education
B.E. in Manufacturing Processes and Automation, NSIT, University of Delhi 2017 M.S. in Data Science, Indiana University, Bloomington 2021

Background
After completing my Bachelors, I worked for 2 years in an Analytics Company based out of Gurugram, India and then chose to pursue Masters in Data Science from Indiana University, Bloomington. I joined CNS in March 2020 as a Graduate Researcher. My course focus lies in Deep Learning, Machine Learning, Statistical Modelling and Visualization. I am currently working on Hubmap project under Professor Katy Borner.

Personal
I like travelling and exploring new places. In free time, I like to sketch and watch movies.