Current Team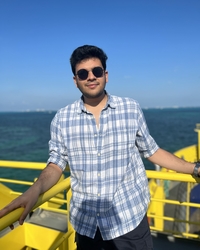 Yash Shah
Research Assistant
Office:
Phone:
Fax:
E-mail: ude.ui@hahsay
Education
Bachelor of Engineering in Electronics Engineering from DJ Sanghvi College of Engineering, Mumbai University, India. Currently, in the final semester of my Master's in Data Science from the Luddy School of Informatics, Computing and Engineering, Indiana University Bloomington.

Background
My undergraduate education in Mumbai got me to take classes in circuit design, VLSI, IoT, and assembly language programming. As an elective in the fifth semester, I took a Data Processing Techniques class which particularly piqued my interest and led me to explore all things data. Starting from data engineering to visualizing to analyzing and delving into AI/ML, that's how I knew I wanted to pursue a Master's degree in Data Science. Going into this, I also found that I am extremely fond of Statistics and statistical inferences which thus helped me to give concrete reasonings and conclusions (with very just and weighted reasons) for every analysis I would conduct. Further ahead, I believe the CNS gives me an excellent opportunity to learn VR development in addition to data analysis and visualizations. All and all, I am still not a hundred percent sure about what I want to do next, but I know that I am super happy to be here!

Personal
Before I went and got myself a degree in engineering, I almost was going to enroll myself at a culinary school so I can tell you that I am extremely passionate about cooking. Adding to this, I am very fond of learning languages, and listening to music that is not ubiquitous (any big fans of 'Khruangbin' hmu), and watching TV.