Current Team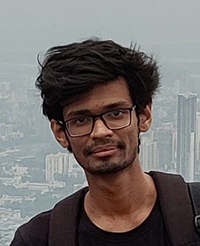 Vaibhav Vishwanath
Angular Developer
Office:
Phone:
Fax:
E-mail: ude.ui@hsivav
Education
I have a Bachelor's degree in Information Technology. I'm currently pursuing a Master's in Computer Science from Luddy School of Informatics, Computing and Engineering.

Background
I have worked as a Software Developer at Willis Towers Watson and my interests lie in Web Development and Systems Design and Development.

Personal
I'm a huge soccer fanatic and I've been supporting Liverpool FC since my childhood. I'm a very outdoor person and enjoy playing football, taking long walks, mountain hikes, cycling and skiing.