Current Team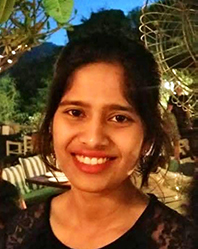 Shriya Mandarapu
Research Assistant
Office: 4025J
Phone:
Fax:
E-mail: ude.ui@adnamhs
Education
Masters - Luddy SICE, IU - Data Science. Bachelors - Indian Institute of Technology(IIT) Kanpur - Major - Materials Science and Engineering; Minor - Cognitive Science.

Background
As you've figured out by now, I'm from India! Born and brought up in Hyderabad, before moving to Kanpur and subsequently to Gurgaon. Life has been kind and giving in ways I've had the opportunities to work on multi-faceted problems from photovoltaics to eye saccades to real world business cases to biomedical/cellular image data now.

Personal
I love reading a lot. Be it books, blogs, articles, comics, ink on paper and some coffee makes me happy! I also love runs and walks. Sometimes when time and space permits, I paint. Bloomington has shown much beauty in the sky, lately I've picked up stargazing!