Current Team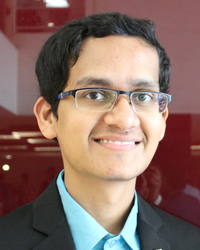 Santoshmurti Daptardar
Research Assistant
Office:
Phone:
Fax:
E-mail: ude.ui@dratpads
Education
B.E. in Computer Engineering, University of Mumbai - 2018
M.S. in Data Science, Indiana University Bloomington - 2020

Background
After completing my bachelor's in computer engineering, I came to IU for my masters and joined CNS in May'19 as a research assistant. My areas of interest are visualization, analytics, artificial intelligence, data science, etc. I currently work on different visualization research projects of CNS, and also as a Teaching Assistant for an online executive education course - Visual Analytics.

Personal
I like to play table tennis, go for cycling when the weather is nice, gaming with friends, etc.