Current Team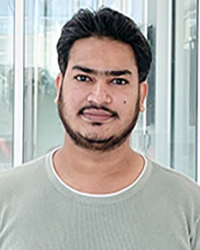 Sanket Darwante
Angular Developer
Office: 4033
Phone:
Fax:
E-mail: ude.ui@tnawrads
Education
Mastering my core domain of Computer Science at Indiana University - Bloomington

Background
I am from Biggest & Beautiful Democracy in the world - India, and also from the state called as Land of Saints - Maharashtra - whose capital 'Mumbai' is world-known. Also, my hometown is the historic city of Aurangabad, where the world-famous "Ajantha & Ellora Caves" are situated. I will be working as an Angular Developer for the Scalable Precision Medicine Oriented Knowledge Engine (SPOKE) CNS Project. I have around three-plus years of work-ex as a Full Stack Developer in America's payroll giant ADP and UK's football cup sponsor Barclays Bank. I had explored over a broad spectrum of software engineering from design, development, and deployment of Industrial Grade Application, and also for that matter quite familiar with Quality Assurance and Testing of software. Parallelly I am also learning Machine Learning & Data Science technologies.

Personal
Apart from coding stuff, I like to explore new places and meet new people. One of the longest trips, I have done so far was of continuous 28 Days exploring the eastern coastal line ( Kolkata to Kanyakumari ) of India passing through more than 6-7 Indian states. Did adventure sports, river rafting, kayaking and scuba diving & bike riding. Also, I am a foodie and like to try out different cuisines. My favorite Indian Cuisine is Maharashtrian & South Indian food like Idli, Wada & Dosa. So, now I am here in the United States challenging myself to upgrade in professional life through a Master's degree along with that pursuing my hobby of exploration and making new friends, understanding American culture, and trying out different American cuisines.