Current Team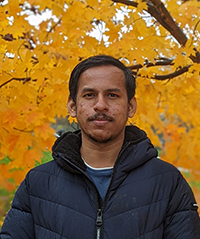 Sai Kiran Jella
Angular Developer
Office:
Phone:
Fax:
E-mail: ude.ui@allejs
Education
I am a Computer Science graduate student from the Luddy School of Informatics, Computing, and Engineering. I have completed my Bachelor's in Computer Science from Mahatma Gandhi Institute of Technology, Hyderabad, India.

Background
After my undergrad, I joined ADP as a Full Stack Engineer, and I worked there for 2 years mainly on Angular, Java and a bit on Jenkins pipelines.

Personal
I usually spend my free time playing badminton, watching movies or cooking.