Current Team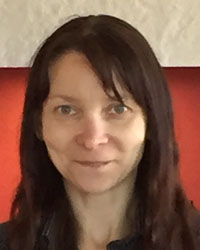 Olga Scrivner
Research Scientist
Office: Luddy Hall 4022
Phone: 812-856-3199
Fax:
E-mail: ude.anaidni@nvircsbo
Education
Olga holds a dual PhD in Computational Linguistics and French Linguistics from Indiana University.

Background
My passion for natural languages led me to the field of Natural Language Processing. Text analytics and visualization became an integral part of my research that ranges from digital corpora, NLP methods, web reactive framework, and design of analytical tools.

Personal
I went around the world in 1999-2000 on the cruise ship "Ocean Explorer I", where I met my husband and became a Hoosier. We love traveling and learning new things. And here are the three things that I am absolutely passionate about: languages, computer, and martial art.