Current Team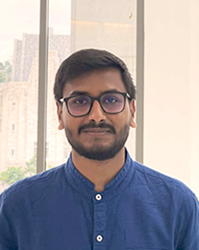 Nikhil Mahadevaswamy
Angular Developer
Office: Luddy Hall 4999
Phone:
Fax:
E-mail: ude.ui@edahamn
Education
I am currently pursuing my Master's in Computer Science at the Luddy SICE. I have completed my bachelor's in Computer Science from RNS Institute of Technology, Bengaluru.

Background
I have worked as a front-end developer for 2 and half years at Wipro technologies and as a Full Stack developer for a year in a Netherlands-based startup.

Personal
My hobbies are playing cricket, hiking & running.