Current Team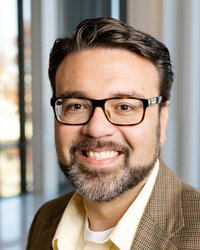 Matthew Martindale
Center Assistant
Office: Luddy hall 4020
Phone: 812-855-9930
Fax:
E-mail: ude.ui@itramsam
Education
B.S., Informatics – Indiana University, Bloomington, IN (2004) Minors in Telecommunications and Studio Art

Background
I joined CNS in November of 2018. I previously spent 12 years as a Research Assistant for the Department of Prospect Management and Research at the Indiana University Foundation, where I used news aggregators to track "breaking news" on current and potential donors to IU. Priority was focused on principal giving prospects – donors of highest net worth and varying levels of capacity/inclination to give to IU. Prior to my stint at the Foundation, I spent nearly two years at the Kelley School of Business as a Secretary in the Department of Finance. I first "got my foot in the door" at IU in 2004, just prior to completing my undergraduate degree, spending a brief time as an hourly worker doing "IT stuff" for SICE.

Personal
I enjoy spending free time with my wife, children, and pets. I have three sons (two of which are twins) and a daughter. My pets are a Korat cat named Willow Sammy and a Pug dog named Archie. I like hiking, camping, and visiting state parks. My family is heavily involved in Scouting. My three youngest children are Cub Scouts with a local pack, in which I've served as a Den Leader for several years. My oldest child is a member of Scouts BSA, and he is working hard to achieve Eagle. I'm a Scouter and Committee Member for his troop. With what little spare time I have left, I like to collect rocks/minerals, coins, and comic books. I'm also content to read a good book or watch a good documentary or horror movie.