Current Team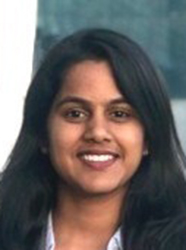 Manognya Katapally
Angular Developer
Office: 4025J
Phone:
Fax:
E-mail: ude.ui@atakam
Education
I am a master's student in Computer Science at the Luddy School of Informatics, Computing and Engineering.

Background
I have my done under graduation in Information Technology and later, worked as a Software Engineer at NCR. Though I like web development, I am also interested in Machine Learning. During my undergrad, I have done research in this field and have published a couple of papers.

Personal
I love painting and dancing. Playing around with colors on a canvas is always a fun past time for me. I have also started gaining interest in music recently and I am excited to see where it takes me to.