Current Team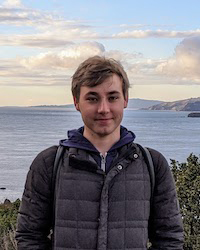 Mac Vogelsang
Software Developer
Office:
Phone:
Fax:
E-mail: ude.ui@legovdam
Education
I graduated from IU in 2019 in cognitive science and computer science, and since then have been working as a full-time software engineer at Salesforce based in San Francisco (although currently, I am in Bloomington with family due to COVID).

Background
I'm excited to assist with CNS in my spare time since I'm passionate about research and visualization design, which aren't skills I get to use as an engineer at a large tech company. At the same time, hopefully, some of my learnings from enterprise tech can translate well to this project!

Personal
Outside of work, I love playing hobby board games, baking, and exploring (and photographing) all things nature. Board games are a great activity to do with my family and significant other while being kept indoors, and baking is a skill I picked up from my excellent and very crafty mother (I love making sourdough bread). Before the pandemic, I also enjoyed traveling to cities and wandering around, admiring the architecture and geography. I can't do much of that right now, but I am very excited to start traveling again soon.