Current Team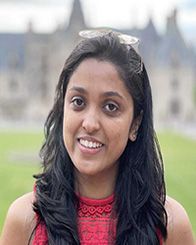 Kavya Ranganath
Angular Developer
Office: 4033
Phone:
Fax:
E-mail: ude.ui@anagnark
Education
I am a graduate student at Luddy SICE, currently pursuing my Masters in Computer Science.

Background
I was born and brought up in Bengaluru, India. Completing my undergrad in Computer Science I started my professional career as a Software engineer at Scientific Games Ltd. I am well versed in full-stack development.

Personal
I love going on adventures, playing badminton, practice yoga, and traveling to new places. I am a Formula 1 fan.