Current Team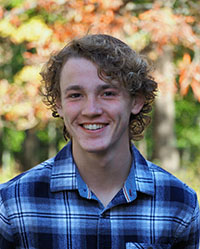 Ethan Cantrell
Research Intern
Office:
Phone:
Fax:
E-mail: moc.liamg@30cevade
Education
I am a Senior at Bloomington High School North.

Background
I was born in Bloomington, Indiana, and have lived here my whole life.

Personal
I have a wide range of hobbies, but some of my favorites are playing soccer, swimming, stone carving, and backpacking. I grew up watching my two older brothers play soccer, and I began playing when I was 5. Similarly, I joined the same Boy Scout Troop my brothers were affiliated with, and recently I acquired the rank of Eagle. I began swimming when I joined my middle school swim team in 8th grade. Lastly, I began stone carving in 5th grade, and I was taught by my elementary school social worker who led a stone carving club during recess. Over my time with CNS I plan to learn and adapt into a more well rounded candidate for future lab work. This includes learning code, making engineering project plans, and improving my overarching understanding of neuroscience. Through CNS I hope to broaden my experiences with a number of different projects.