Current Team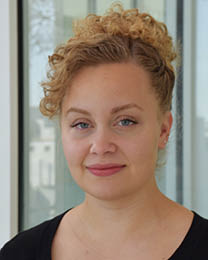 Esmé Middaugh
Exhibit Assistant
Office: 4014
Phone:
Fax:
E-mail: ude.ui@hguaddim
Education
B.A. in Information Science and Arts, University of Arizona, 2017
Pursuing an M.S. in Data Science, Indiana University

Background
Prior to serving on the CNS Team, Esmé worked at National Public Radio (NPR) as their Digital Media, Data Analytics Intern and as an undergraduate research assistant on the NSF Funded Grant "Collaborative Research: University Commitment to Interdisciplinary Research: Scope, Causes, and Consequences."

Personal
I love to bake! I worked for 6 months as a baker at The Wydown, an artisanal coffee shop & bakery in DC.