Current Team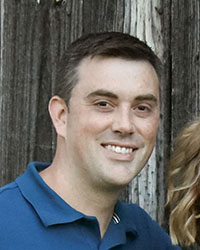 Kirk Andrew Ebelhar
IT Project Manager
Office:
Phone:
Fax:
E-mail: ude.ui@rahlebek
Education
B.S., Telecommunications - University of Kentucky (2005)

Background
I've worked at IU since 2009 in a software development group starting out as a tester and working my way up to a business analyst, then scrum master/product owner. Before that, I spent time as a consultant for a car dealership software company and support/trainer for a warehouse management software company. I've also been a system admin for a system that managed door access and spending plans at IU. Over the past few years before joining CNS I helped organize and plan the software development of a small team of developers who have worked on various projects around campus.

Personal
I enjoy spending time with my wife and 3 kids, playing video games (usually first-person shooters), automating my house, and a little woodworking.