Current Team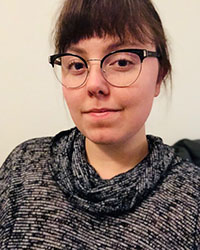 Daphne Scott
Research Assistant
Office:
Phone:
Fax:
E-mail: ude.ui@ttocspad
Education
I am a final semester master's student in the library science department with a concentration in data science.

Background
I am from Kokomo, but have opted to stay in Bloomington despite virtual classes and jobs.

Personal
I enjoy cooking, gardening, reading, and caring for my 12 month old cat (Velma) and 14 year old dog (Doxie).