Current Team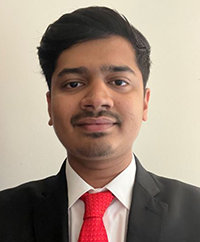 Raj Chavan
Angular Developer
Office:
Phone:
Fax:
E-mail: ude.ui@navahcr
Education
I completed my Bachelor's in Computer Science from Mumbai University, Mumbai, India in 2021. Currently, I am pursuing my Master's in Computer Science at Luddy School.

Background
I have rejoined CNS as an Angular Software Developer. I worked in the summer of 2022 before with the Crimson Fox team. I have experience working with Angular, ASP .NET Core, and Spring.

Personal
I like to listen to music and trying out new cuisines. Walking, jogging and working out are my other favorite pastimes.