Current Team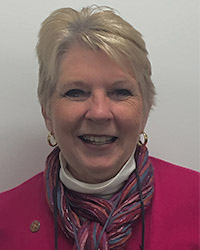 Charlotte Smith
Business Associate
Office:
Phone:
Fax:
E-mail: ude.anaidni@chtims
Education
B.A., Indiana University

Background
I have been a part of the CNS family since 2010. During this time, I've been stationed in Wells Library, Info East, and now Luddy Hall. I assist in managing the business side of CNS, which includes pre- and post-awards where much of CNS funds comes from. I love being part of the Center's dynamics, learning new programs, and working to keep active with the challenges of the ever-changing work environment.

Personal
I live in the country in Owen County with my family and a small assortment of animals. I keep busy with my family which includes 4 children, 24 grand and great grandkids, and my Christian-faith community. I like to work outside, ride my ATV in the hills of eastern Kentucky, cook, read, sew, and take naps.