Current Team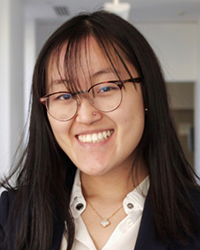 Catherine Qing
Research Assistant
Office:
Phone:
Fax:
E-mail: ude.ui@gniqc
Education
I graduated with a B.S. in Psychology and Informatics in the Spring of 2022.

Background
I have done research in 2 social psychology labs here at IU, and I also just completed my honors thesis on pain perceptions of low-SES individuals.

Personal
I enjoy applying my background in psychology to technology, as I helped instruct 2 human-computer interaction and UX research/design classes. I'll be working in the lab this summer to help with lit reviews and writing before I head to Stanford in the fall for grad school!