Current Team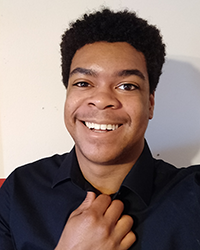 Bryce Greene
Angular Software Developer
Office:
Phone:
Fax:
E-mail: ude.ui@jbeneerg
Education
Bryce graduated from IU in 2020 with a degree in Informatics. He enjoys discussing current events, politics, and ideas about how to change the world for the better. Though currently based in Indianapolis, beginning in fall 2022, Bryce will begin an Informatics Ph.D. program studying the intersection of Big Tech, surveillance, and the politics of Empire as part of the Computing Culture and Society track. This field of study is able to successfully blend his intense interest in corporate power, technology, and the global crisis of democracy.

Background
A musical soul, Bryce was an early recipient of IU's certificate in Rock N' Roll history. Bryce is himself a musician, playing the drums since the middle school jazz band.

Personal
He currently plays in an Indianapolis-based band called Kenna and The Kings. He also is known to attend shows at the Bluebird and sit in on jazz jam sessions whenever possible.