Current Team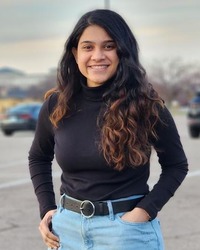 Athulya Anand
Teaching Assistant – Visual Analytics
Office:
Phone:
Fax:
E-mail: ude.ui@dnanahta
Education
I am currently pursuing my Master of Science in Data Science at the Luddy School of Informatics, Computing, and Engineering at Indiana University Bloomington. I have completed a bachelor's degree in Electronics and Telecommunication Engineering from the University of Mumbai.

Background
I am Athulya Anand and I come from Mumbai, India. It has been my long-term ambition to pursue a career in the field of Data Analytics that amalgamates with Management and Business alongside. Today, data is the oil that fuels innovation and I aspire to be a part of a force that helps to organize and represent this data in an efficient and easy way such that it is integral to the advancement of science, ultimately benefiting society too. I aim to become a skilled Analyst in successful and growing organizations that consistently develop technology for providing effective solutions to achieve business goals. I am excited about opportunities from the Data Science team that will educate me with the expertise required to succeed as a pioneer in the growing industry. I worked as a Business Analyst and Project Manager Intern during my undergrad days to advance my skillset and interest in my relevant field of work.

Personal
I am a trained and certified Indian Classical Dancer and continue to have my passion for dance, music, and fine arts. Traveling to new places, Cooking and exploring new cuisines across different countries and painting is my stressbuster.