Current Team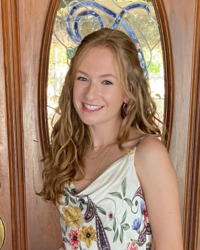 Alaina DeVille
Undergraduate Researcher
Office:
Phone:
Fax:
E-mail: ude.ui@lliveda
Education
Currently pursuing a BS, in Cybersecurity & Global Policy at Luddy SICE in tandem with Hamilton Lugar School of International Studies. Also, a member of the Russian Flagship Program with an expected graduation date of 2026.

Background
I was born and raised in Highlands Ranch, Colorado. My love of community, foreign policy, and my unique major all brought me to IU. In addition to being a student, I am also active in extracurriculars such as Vice President of Internal Affairs for Spruce RHA, Student Ambassador for HLS, member of Women in Computing, Women in Government, and a proud rider in the Western Equestrian Club. I joined the CNS team to learn more about research methods and how to utilize research & data visualization software.

Personal
I am an active person who loves going on adventures! My favorite thing to do on IU's campus is to take long walks in the tree-dense parts of campus. I love hiking as it reminds me of my home, but I equally love hitting the town, shopping to my heart's content, and trying new food. l also love reading! I definitely recommend going to the Caveat Emptor to take a look through its shelves!