Current Team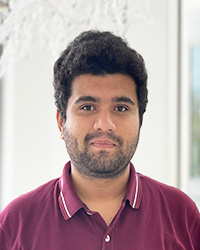 Akshay Murthy
Angular Developer
Office: 4033
Phone:
Fax:
E-mail: ude.ui@yhtrumka
Education
I finished my undergrad studies majoring in Computer Science in 2017 from PES Institute of Technology, Bengaluru, Karnataka, India. I am currently pursuing a Master's in Computer Science at Luddy.

Background
I have close to 4 years of work experience working as a Software Engineer at McAfee and GE Healthcare mainly in technologies such as AngularJS, Angular, and C++.

Personal
My hobbies include playing chess and football(soccer) and reading novels, mostly 'Kannada` language novels.