Current Team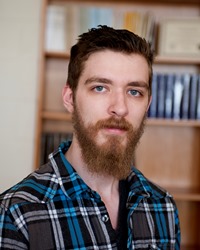 Adam Simpson
Hourly Software Developer
Office: n/a
Phone: n/a
Fax: n/a
E-mail: ude.anaidni@spmishda
Education
B.S. Informatics w/ cognate in Telecommunications
Minoring in Telecommunications Applications and Computer Science

Background
I was brought into the CNS team in July, 2012 as a Web Development intern. Since then, I have worked on some really great projects with the rest of the team. I joined with almost no experience outside of classwork and a few side projects. But my time at CNS has really let me build my hard skills, while making think critically about theories and concepts.

Personal
Most of my free time is spent learning something new. I like expanding my programming skills by building websites or applications. I am a big music fan as well, so a lot of my time is also spent listening to and playing music (mostly bass guitar). I've also recently started working on video game development on the side.