Current Team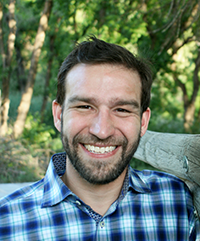 Abraham E Verdoes
Technical Project Manager
Office: Luddy Hall 4014
Phone:
Fax:
E-mail: ude.ui@seodreva
Education
B.S., Chemistry & Economics – Wesleyan University, Middletown, CT (2009)
M.S., Organic Chemistry - Indiana University, Bloomington, IN (2012)

Background
I joined CNS in July 2022 with a background in chemistry, analytical method development & research project management. My professional experience comes from a range of areas, including, pharmaceutical, raw material, and medical device industries.
As part of CNS I provide technical project management for the HuBMAP project, working to align collaborators, goals and timelines to help drive innovative results.

Personal
I enjoy spending time with my wife & pets, attempting various outdoor activities, playing video games, and traveling.