Current Team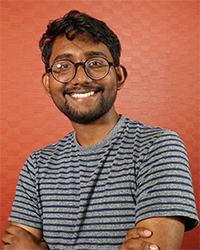 Abhiroop Kommalapati
Research Assistant
Office:
Phone:
Fax:
E-mail: ude.ui@alammoka
Education
MS in Computer Science, Luddy SICE, Indiana University Bloomington (Current). B. Tech in Electronics and Communication Engineering, ICFAI Foundation for Higher Education, Hyderabad

Background
I am a Research Assistant – Machine Learning at CNS. My research interests lie in statistical learning, computer vision and image processing for medical applications, generative modeling, and explainable AI. Most recently, I worked as a Computer Vision Consultant at Segmind and prior to that as a Machine Learning Engineer at Onward Assist for 2 years. At Onward, I delivered on a multitude of research projects leveraging computer vision and related technologies to Pathology and Radiology.

Personal
In my spare time, I like to read (both fiction and non-fiction). I also like to create art, with an increasing interest in digital art. I like to play video games with gripping storylines as well.