Current Team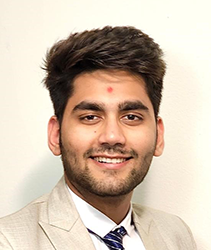 Abhay Bharat Rajde
Angular Developer
Office:
Phone:
Fax:
E-mail: ude.ui@edjarba
Education
Currently pursuing a Master of Science degree in Computer Science from Luddy School of Informatics, Computing, and Engineering. I have completed my Bachelor in Engineering degree in Information Technology from the University of Mumbai, India.

Background
Born and brought up in Mumbai the financial hub of India. Talking about myself, Problem Solving, and Impactful Collaborative Development define my personality and interests. During my undergrad to gain hands-on experience on the cutting edge technologies used in the dynamically changing world I interned at DB Sys Online and Printserv as a Software Engineer Intern where I worked on the project for Airtel, the world's 3rd largest mobile network operator where I assisted the company to obtain an overview of the entire infrastructure for Troubleshooting and decision making.

Personal
As a professional Volleyball player, I love playing volleyball. Cricket, soccer, badminton, and tennis are some of my other favorite sports. In my spare time, I enjoy following and keeping up with new technological trends. Hiking and road trips are two of my favorite activities. Exploring new cities and towns is my favorite pastime.